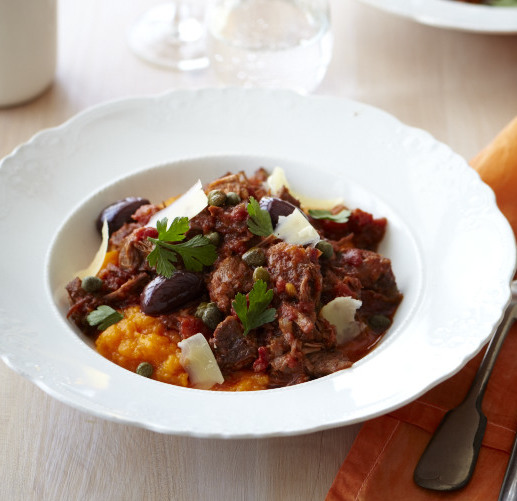 |  Photography by Manja Wachsmuth Photography
Tender Lamb in rich Puttanesca Sauce
Serves: 4-5
Preparation time: 15 minutes
Cooking time: 3 hours
Puttanesca is a traditional and much-loved Italian sauce usually served with pasta. I've put a Kiwi spin on it by adding lamb and serving it over a buttery kumara mash. I won't tell you what the word 'Puttanesca' actually means in Italian (you can Google it if you must) – all that matters is that it's loaded with flavour and couldn't be easier to make. The oven does all the work to make the lamb 'fall-off-the-bone' tender.
Ingredients
1kg – 1.5kg Quality Mark lamb shoulder chops, trimmed
3 cloves garlic, crushed
2 onions, finely chopped
4 anchovy fillets, chopped
1½ tablespoons dried oregano
1 tablespoon chopped fresh rosemary
2 tablespoons tomato paste
2 x 400g cans chopped tomatoes in juice
½ chilli powder (optional)
1 cup salt reduced chicken stock
2 teaspoons sugar
¾ cup olives
1 tablespoon capers, drained (optional)
Kumara mash
4-5 orange or gold kumara, peeled and chopped
25g butter
¼ cup grated Parmesan
½ cup chopped parsley
To serve
Extra fresh parsley, chopped
Extra grated Parmesan
Splash of balsamic vinegar
Method
Lamb
Preheat the oven to 150C.
Heat a little oil in a large heavy-based frying pan over a very high heat.
Pat the lamb dry with a paper towel, trim any fat and season with a little salt and pepper. Add 2-3 chops to the pan and cook until browned on one side. Turn over and cook another few minutes. Transfer to a warmed plate and repeat with the remaining chops.
Tip any fat from the pan and return to a medium heat. Add a little oil and the garlic, onion, anchovies, oregano and rosemary. Cook for 7-10 minutes until the onion is soft. Add the tomato paste, tinned tomatoes, chilli powder (if using), stock and sugar. Stir to combine and nestle the chops in so they're covered. Bring to a boil then turn off the heat straight away.
If your pan is ovenproof, cover and cook in the oven for 3 hours. If not, transfer everything to a covered casserole dish before placing in the oven.
With 15 minutes to go, add the olives and capers (if using).
Remove from the oven, stir, and then check the seasoning. If the sauce seems a little thin, remove the lamb then simmer rapidly in an uncovered saucepan for 5-10 minutes to thicken it.
Mash
Steam or simmer the kumara pieces in a covered pot until tender – about 15-20 minutes. Drain the water off and place back over a low heat, uncovered, for a few minutes to evaporate the excess moisture. Add the butter, Parmesan and parsley and mash well to combine. Season to taste and keep warm.
To serve
If you like, you can pull the meat off the bones before you serve it. Spoon some mash into warmed serving bowls or plates, then top with meat and a few spoonfuls of the sauce. Sprinkle with parsley, Parmesan and a splash of balsamic vinegar if you like.
Alternate cuts
Diced lamb shoulder, lamb necks
Tips
Lamb chops don't always have to be fast-fried on the BBQ – when they're slow cooked like this, the meat becomes meltingly tender. Chops have a great flavour too.
Bring the chops to room temperature if you can before frying them, so they brown up better resulting in more flavour.
This sauce is also goes well with pasta – try it with cooked fettuccine, pappardelle or penne.
Be careful not to add salt until the very end until you've tasted it – olives and anchovies are all salty and you probably won't need any more.
If you like a spicy kick, double the amount of chilli powder you add – or pop in a fresh red chilli.
 This dish can be made in a slow cooker.