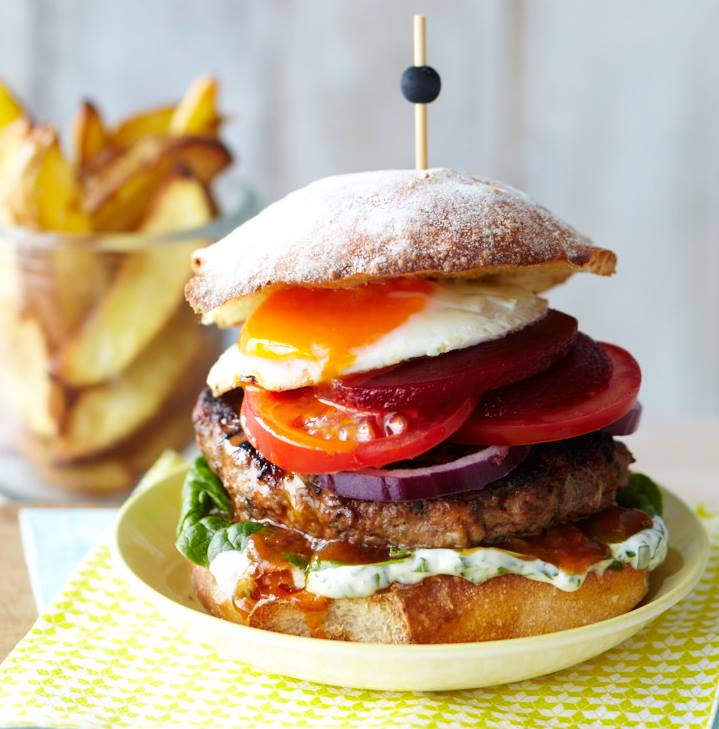 Chelsea's Ultimate Kiwi Burger
Yes, I know the burger in the photo looks hard to eat – but let's be honest, when we make our own burgers we don't care about presentation so we just slap everything on and squash it down. Eating burgers isn't supposed to be a tidy experience anyway! The burgers are absolutely jammed with flavour – unbelievably tasty and a far healthier alternative to fast food. Feel free to add anything else you like – pineapple, avocado, chilli flakes. You can use tinned beetroot if you like, but I recommend trying my recipe below for homemade, which is delicious and so easy. To make the sliced red onion extra tasty, sprinkle it with salt and a squeeze of lemon, let it sit for 5 minutes then rinse.
Ingredients
600g-800g Quality Mark lamb mince (or use beef mince)
1 onion, very finely chopped
1 clove garlic, crushed
1 free-range egg, lightly beaten
1 slice wholemeal toast bread, torn into small pieces, soaked in 2 tablespoons milk
½ cup feta, crumbled
½ cup mint leaves, finely chopped
1 tablespoon rosemary leaves, finely chopped
1 tablespoon tomato paste
1 tablespoon extra virgin olive oil
Zest of 1 lemon
1/2 teaspoon salt
To serve
5-6 burger buns, halved (I like ciabatta buns)
Tomato relish or sauce
Lettuce leaves
Tinned beetroot (or see a recipe for homemade beetroot below)
1 red onion, very finely sliced
Fried eggs
Ripe tomatoes, sliced
3/4 cup aioli or mayonnaise, mixed with ½ cup finely chopped basil and a squeeze of lemon juice
Method
Patties
Preheat the oven grill to high.
Place all the patty ingredients in a bowl, add pepper and mix it all up using your clean hands. Shape into 4-6 patties, cover and refrigerate for 15 minutes.
Preheat a BBQ or frying pan to a medium heat. Brush the patties with a little oil and cook for a few minutes until crunchy and brown on one side. Turn the patties over, reduce the heat to medium low and cook for another 8-10 minutes until cooked through.
Before serving, I like to halve the buns, spread with butter and pop under the grill to get a very slight crunch (you can add some sliced cheese to make them extra delicious if you like!)
Everyone can assemble their own burgers with the fillings – and don't forget to give the burger a good press down with your palm before you attempt to eat it, unless you have the world's largest mouth hole!
Recipe for homemade sweet & sour beetroot
2 large beetroot (or 4 small), peeled and sliced
½ cup white vinegar
½ cup sugar
1 cup water
½ teaspoon salt
Place the beetroot in a pot with the vinegar, sugar and water. Cover and simmer gently for 25-30 minutes or until tender. Cool slightly and place in a bowl with some of the cooking liquid until ready to serve.