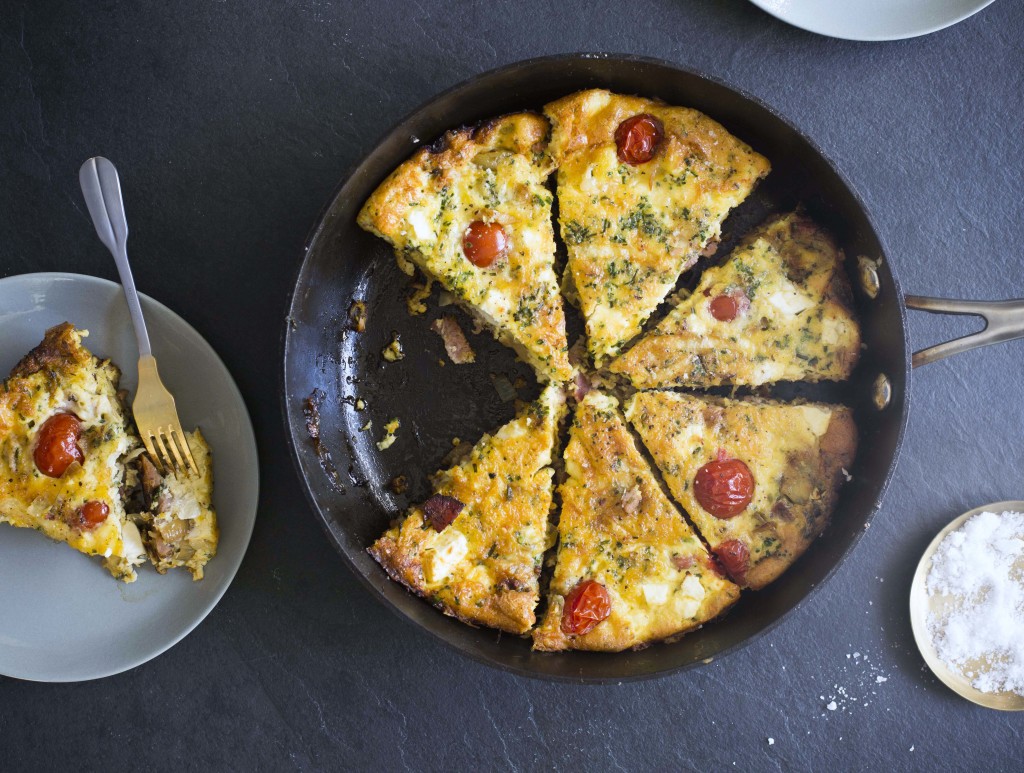 Ham, cheese & onion frittata
Christmas, happily, is a time of much feasting – and with that comes many leftovers! With mountains of delicious ham (and/or turkey) everywhere, we all need inspiration beyond sandwiches to use it up. Here's a quick, simple, delicious recipe that makes for a very tasty breakfast, lunch or dinner.
If you don't have leftover veges, you can either leave them out, or just simmer some quartered potatoes or kumara until tender.
Ingredients
8-10 free-range eggs
½ cup cream (or use milk)
2 tbsp extra virgin olive oil
50g butter
2 large onions, thinly sliced
1 ½ cups leftover ham, roughly chopped (or use turkey or chicken, or bacon)
¼ cup freshly chopped herbs – chives, parsley, basil, dill, thyme
1 tsp dried oregano
1 cup leftover cooked veges, such as potatoes, kumara, roast veg
1 cup grated cheddar cheese (I used tasty)
½ cup feta, crumbled into chunks (optional)
Method
Preheat the oven to grill on high.
Whisk the eggs and cream in a mixing bowl until well combined
Add the olive oil and butter to a large frying pan over a medium heat (an oven-proof pan if you have one – but not essential). Add the onions and cook, stirring frequently, for about 10 minutes. Don't let it go crispy – it should stay soft and eventually turn a lovely golden colour. Add the ham and cook another few minutes. Stir through the herbs.
Sprinkle the vegetable pieces, feta (if using) and cheddar cheese over the ham mixture. Season with salt and pepper
Pour the beaten egg mixture over top. Cook over a medium-low heat for a until almost cooked through – with about 1cm of runny egg on top. How long it takes will depend how thick it is.
Place the pan under the grill (don't let the handle go under the heat until if it's not metal) and cook for a minute until golden. If your pan is ovenproof, put the whole thing in the oven and close the door. If not, have the handle sticking out.
Serve with a fresh salad or blanched asparagus, and relish if you like.
Keep leftover frittata in the fridge on a plate covered tightly with Glad cling wrap.