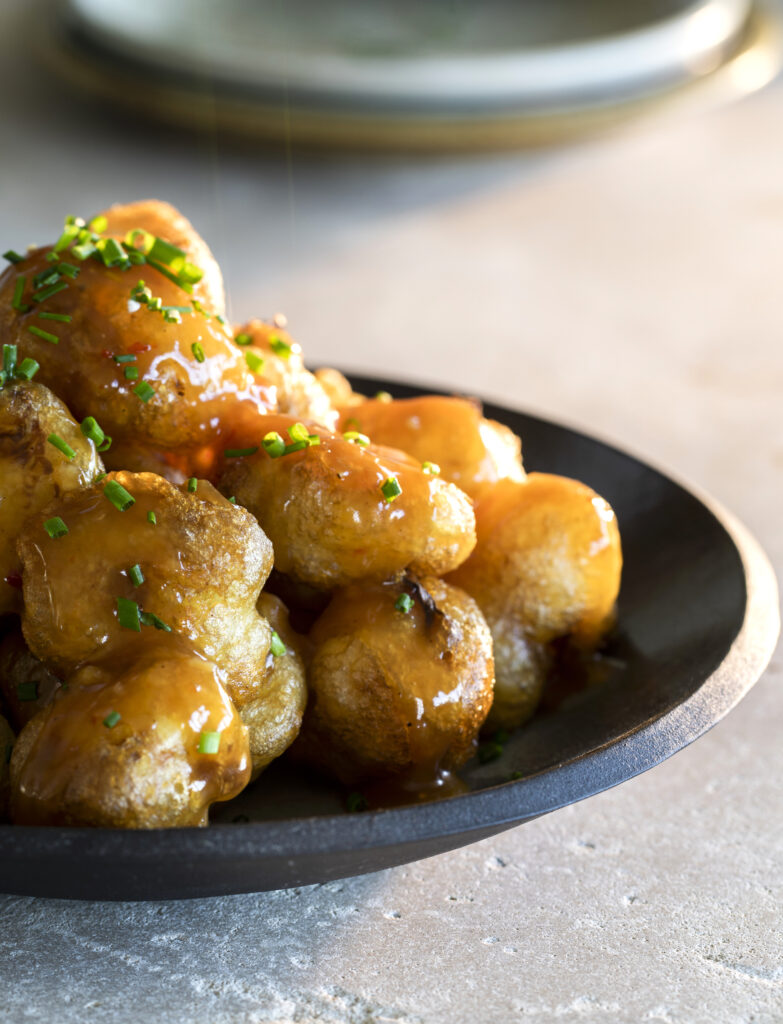 Crispy sweet & sour cauliflower bites
Crispy deep-fried cauliflower with a sticky, tasty sweet and sour sauce . . . it's definitely worth the hassle of labouring over a pan of hot oil when you fry this one up. Awesome for a snack while you're watching the rugby, or a nibbles with drinks with your mates, or even as a naughty Saturday night dinner. Just make sure you serve it up straight away, because the crispiness doesn't last long. And remember — it may be deep-fried but at the end of the day it's still cauliflower, and you're still eating veges, which is a win!
Ingredients
SAUCE
1 tbsp sesame oil
2 tsp neutral oil
3 cloves garlic, crushed
2 tsp finely grated ginger
1½ cups pineapple juice (or use water but pineapple is yummier)
¼ cup brown sugar
¼ cup soy sauce (a low-salt one if possible)
3 tbsp sweet chilli sauce
2½ tbsp cornflour mixed with ¼ cup water
3 tsp rice vinegar (or use lemon juice)
¼ tsp finely ground black pepper
BATTERED CAULI
1 head cauliflower, cut into small florets
1½ cups plain flour
1 tsp baking power
½ tsp baking soda
1½ tsp salt
¾ tsp finely ground black pepper
1½ cups cold water
500ml grapeseed or sunflower oil, for frying
TO MAKE IT GLUTEN FREE – use a GF flour blend without raising agent added and 1¾ cups water.
Method
To make the sauce, add the oils to a medium-sized saucepan over a medium-low heat. Add the ginger and garlic and cook, stirring all the time, for 1 minute. Add the remaining sauce ingredients and stir to combine.
Increase the heat to medium and cook, stirring constantly, for a few minutes until it has thickened up. Take off the heat and set aside.
To make the batter, place the flour, baking powder, baking soda, salt and pepper in a bowl. Add the water and stir with a fork until combined, but not totally smooth. Lots of little lumps are good because they make the best crispy bits when cooked.
Add the oil to a medium-sized saucepan over a medium-high heat and leave it to heat up for 5 minutes or so. To check if it's ready for frying, dip the handle of a wooden spoon or the tip of a wooden chopstick into the oil — if it starts bubbling steadily, then the oil is hot enough for frying (see tips).
Place a wire rack on top of some paper towels on the benchtop, for the cauliflower to drain on when cooked. You'll need to do the cauli in a few batches. One by one, using tongs, dip as many pieces of cauliflower as will fit in the pan into the batter, then very carefully drop into the oil. Cook for a few minutes, until deep golden brown and crunchy. Transfer to the rack while you cook the rest. To serve, you can either toss the cauli in the sauce just before serving (it will go soggy quickly), or have everyone spoon a little sauce onto their cauli or dip it into a bowl of sauce.
Notes
Serve as a meal with noodles or rice, and steamed greens of your choice.
Try to get a good-quality soy sauce or one with reduced salt; some of the
cheaper ones are pretty thick and way too salty and can blow out the sauce.
If you have a thermometer, the oil needs to be around 180–190°C.