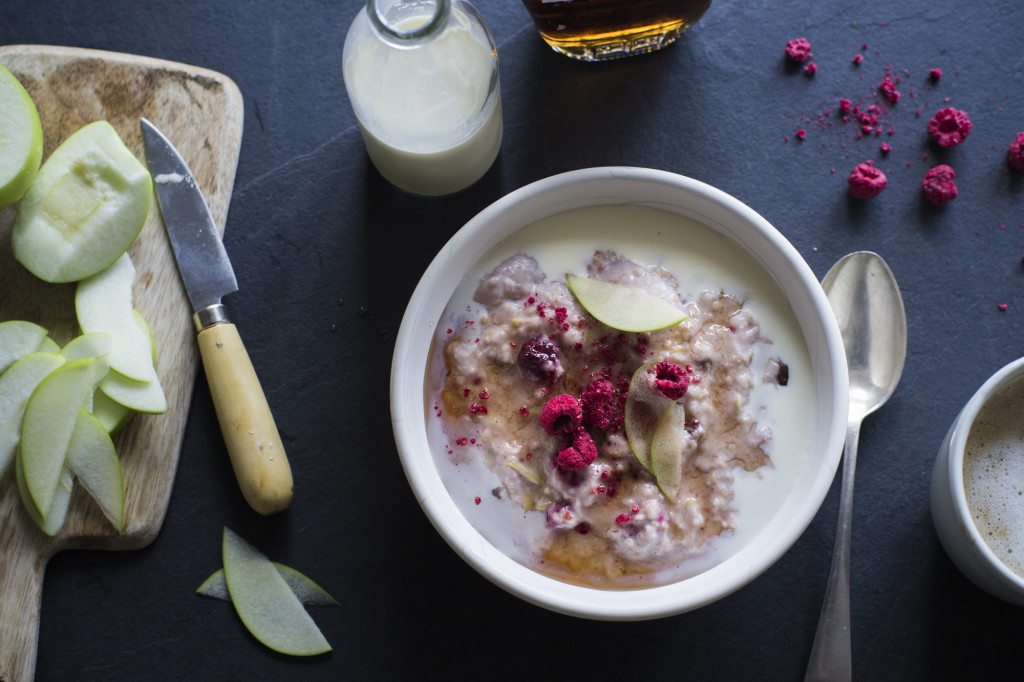 Creamy coconut & apple porridge (vegan)
This is one hell of a delish breakfast. It's vegan and packed with goodies like bran and apple for fibre, LSA for good oils, and chia seeds. You might be wondering why I've used coconut cream as well as coconut milk – the coconut cream makes it lovely and well, creamy – and the coconut milk just takes the place of normal milk. You can just use one or the other if that's all you've got.
Prep time – 5 minutes
Cooking time – 10 minutes
Serves 2-3
Ingredients
1/2 cup rolled oats
1/2 cup coconut cream
1/2 cup apple juice or water
3/4 cup coconut milk (or regular milk if you like)
1 large apple, grated
Half the pears and juice from a 400g can of pear quarters in clear juice
¼ cup bran flakes
2 tbsp LSA (optional)
2 tbsp chia seeds (optional)
1 tsp vanilla essence or paste
small pinch of salt
Optional, to serve
Pure maple syrup or raw honey
Extra coconut milk
Sliced apple and berries
Strawberries or raspberries (fresh, frozen or freeze dried)
Method
Add the rolled oats, coconut cream, apple juice, coconut milk, grated apple, pears and juice, bran flakes, LSA, chia seeds and vanilla to a saucepan and stir to combine.
Place the saucepan over a medium-low heat. Cook gently, stirring frequently with a wooden spoon, for about 8 minutes until the porridge is lovely and thick and creamy.  If you feel like you need to add a bit more coconut milk or cream, go ahead. Serve in bowls with a drizzle of maple syrup or honey, extra fruit and a splosh of coconut milk or cream, or regular milk.
Chelsea's tips
Add a few raisins if you like.
Go for a good quality coconut cream with the fewest amount of additives you can find – and not a light version!
If you're not a fan of pears, use any other tinned fruit in clear fruit juice – or fresh fruit.
Store the rest of the pears/juice in a bowl or plastic container in the fridge, not the tin. Same goes for the coconut cream/milk.
It's your choice if you peel the apples first or not.
Freeze-dried berries are available in some supermarkets and specialty food stores.