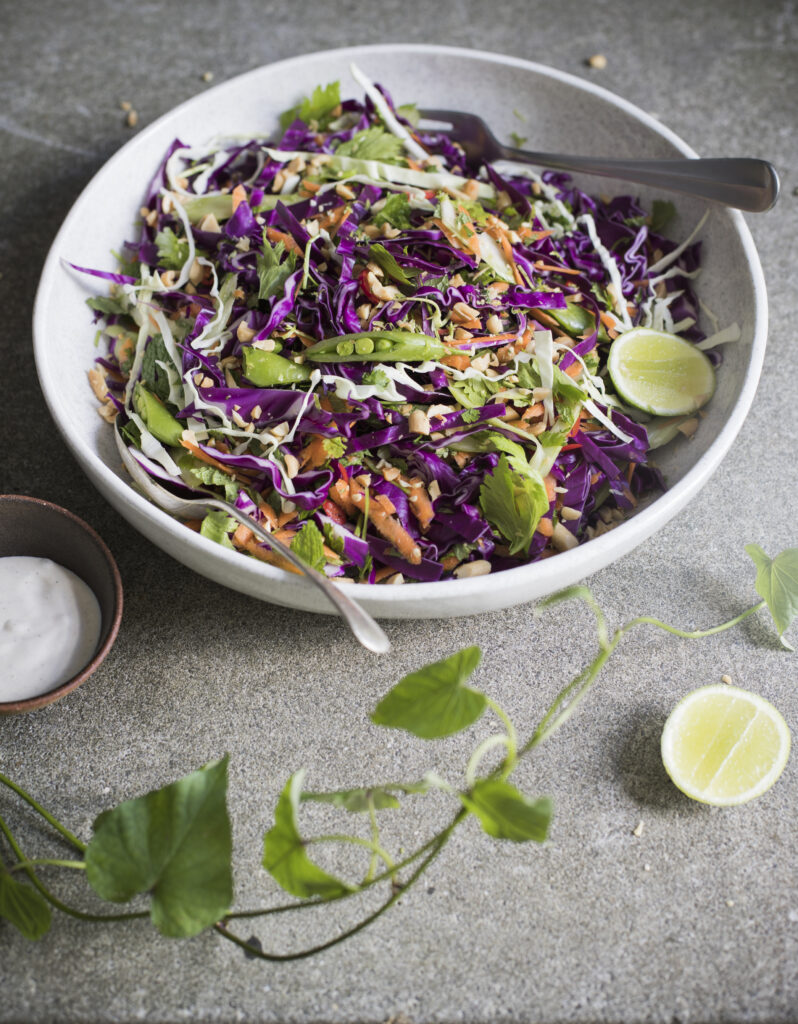 Asian Slaw
Prep 20 minutes
Makes 6
This fresh, colourful and super-tasty side is a favourite year-round, and will go down a real treat at any pot-luck, picnic or BBQ, or alongside any Asian-inspired meal or even as a slaw in a burger.
Ingredients
DRESSING
1/3 cup good-quality store-bought or homemade mayonnaise
2 tsp lime or lemon juice
1 tsp finely grated fresh ginger
1 clove garlic, crushed
1 tsp salt
1/4 tsp sesame oil
1/4 tsp finely ground white pepper
1/4 tsp finely ground black pepper
SLAW
5 cups finely sliced cabbage (purple, savoy, green)
2 carrots, peeled and grated
2 sticks celery, finely sliced
1/2 cup chopped fresh herbs (coriander, mint, parsley, basil)
1/2 cup roasted peanuts, chopped
handful sugar snap peas, sliced
1 red chilli, finely sliced or chopped (optional)
zest of 1 lime or lemon
To make
Place all the dressing ingredients in a bowl and stir to combine. Cover and set aside until needed.
Place the slaw ingredients in a large bowl and toss with the dressing to combine.
Leftovers keep in the fridge overnight.