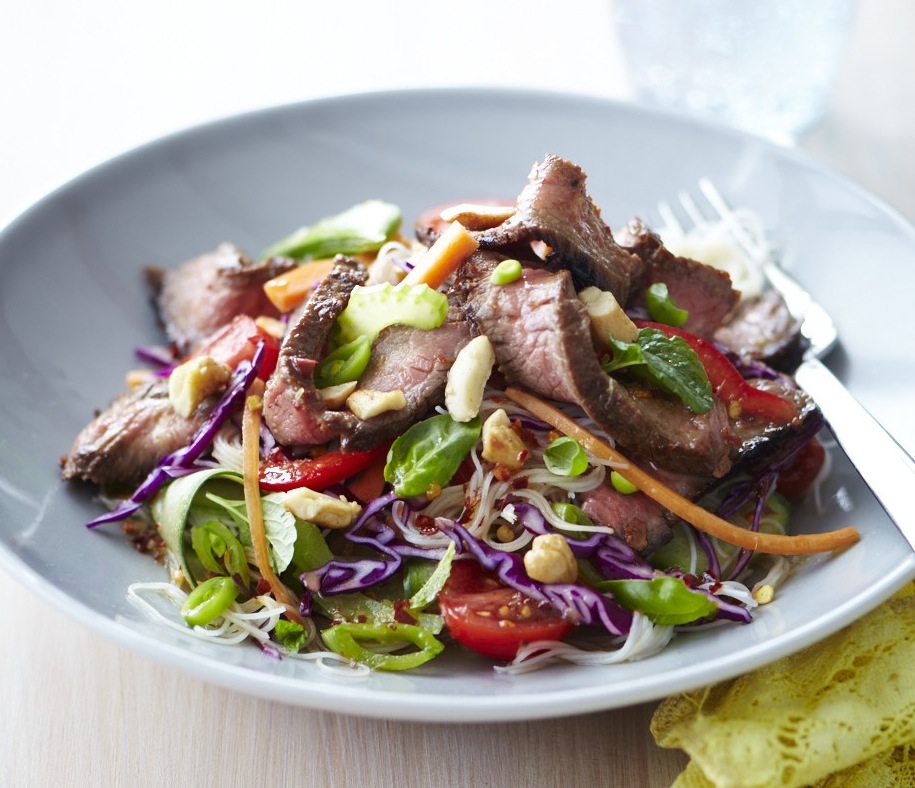 Photo courtesy of Manja Wachsmuth
Vietnamese beef salad

This  gluten-free salad delivers more than meets the eye – the flavours are well and truly amazing! And yet it's such a light, fresh meal, you won't be left feeling heavy and lousy – even if you stuff yourself, which is easy to do as it's so delicious! The trick to the dressing/marinade is getting the right balance of hot (chilli) salty (fish sauce) sweet (sugar) and sour (lime). So once you've made the dressing, play around with adding more of these things, so they balance each other out and it tastes great. The salad ingredients are flexible – use whatever you can find and you like, always try to get some nice colour and texture variations going on and you'll be grand! It's a great way to make a little steak feed a whole family, too.
Serves: 4–6
Prep time: 15 minutes, plus marinating time
Cooking time: 10 minutes, plus resting time
Ingredients
600-800g Quality Mark rump steak, trimmed (you can use any kind of steak)
100g rice vermicelli noodles

Salad ingredients (you don't have to use all of these)
1 cup red cabbage, very finely chopped
2 carrots, peeled and cut into thin sticks
1 cucumber, shaved into ribbons
2 celery sticks, sliced
½ a red capsicum, thinly sliced
1 cup cherry tomatoes, halved
1 cup fresh herbs – mint, coriander and basil (if you can find Vietnamese mint and Thai basil, even better!)
1 packet snow peas or sugar snap peas
¾ cup roasted peanuts or cashews, chopped (plus extra for garnish)

Dressing/marinade
¼ cup brown sugar
¼ cup fish sauce
3 tablespoons lime juice
1 tablespoon lemongrass paste
1 tablespoon ginger juice (see tips below)
2 teaspoons sesame oil
Pinch chilli flakes
Method
Whisk the marinade ingredients together in a bowl to dissolve the sugar. Taste and add more lime juice, sugar or fish sauce until it tastes right to you.
Place the steak in a snap lock bag or container and pour ¾ of the marinade on top (Reserve the rest to use as the salad dressing later). Cover and marinate for an hour.
Heat a little oil in a frying pan (or on the BBQ) over a high heat. Place the steaks on the heat and cook for a few minutes until one side is crunchy and browned, then turn over and cook for another couple of minutes until medium rare or cooked to your liking. Remove from the heat to a warm plate, cover loosely with foil and rest for 10 minutes before carving. When ready to serve, slice across the grain into thin strips.
Place the noodles in a heatproof bowl and pour boiling water over to cover them. Let stand about 10 minutes until soft, and drain.
Gently combine the beef, noodles and salad ingredients with the dressing and arrange in bowls. Garnish with extra nuts, fresh herbs and chopped red chillies if you like.
Tips
To test your steak, prod it with your finger – if it feels very soft, it's rare, and if it's very firm, it's well done. Somewhere in the middle is what we usually want.
Lemongrass paste is available at your supermarket and it takes the work out of chopping lemongrass, which can be stringy and fibrous if not prepared properly.
Ginger juice is made by finely grating fresh ginger and squeezing the juice out.
Traditional Vietnamese cooking is greatly admired for its fresh ingredients, minimal use of oil, and reliance on fresh herbs and vegetables. Vietnamese food is considered one of the healthiest cuisines worldwide.
To make life easier, you can use a handheld julienne tool to prepare vegetables for salads like this.
To make cucumber ribbons, place the cucumber on the bench, hold firmly and peel strips using a potato peeler, using quite a bit of pressure. Avoid the seeds.
Please leave a comment below and let me know what you think!