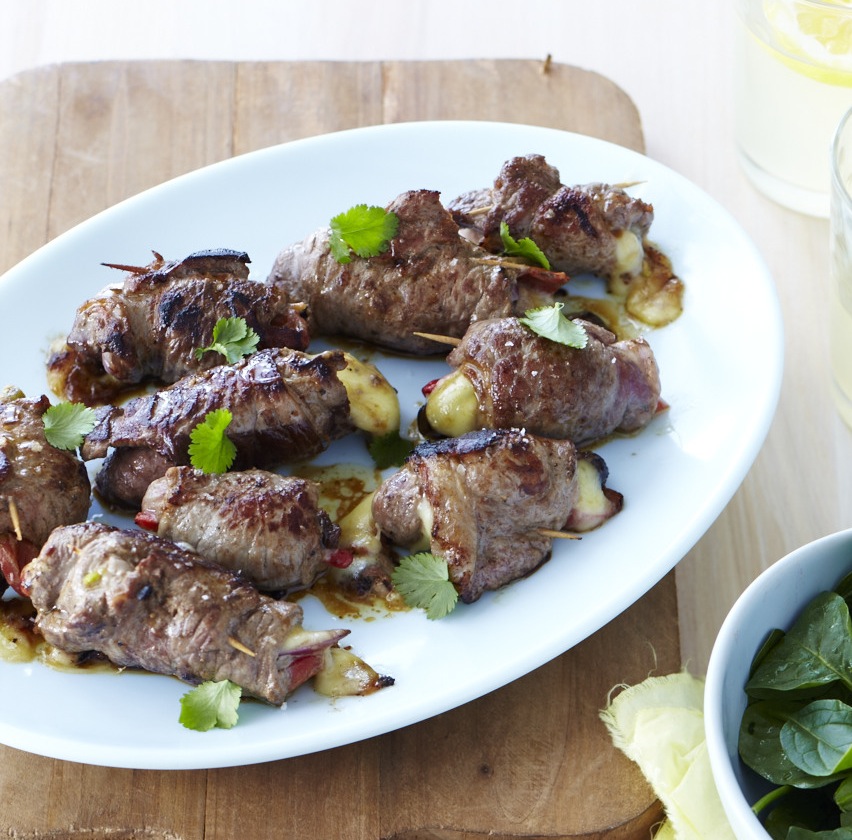 Stuffed cheesy Mediterranean BBQ rolls
Lamb schnitzels are a lot smaller than beef , and not as easy to come buy – ask your butcher and they'll be able to sort some out for you! The flavour of the lamb is so delicious. If not, just use beef schnitzels, it'll still taste magic. I love this recipe because it's something different for BBQ season (not that you can't cook them in winter in a pan as well!). Gooey melty mozzarella cheese, warm cumin, zest lemon and sweet prunes all make for a taste explosion!
Ingredients
Lamb rolls
12 x Quality Mark lamb schnitzels (or use 6-7 x beef schnitzels )
150g-200g mozzarella, sliced
1-2 marinated red capsicums, sliced
1 red onion, finely sliced
¾ cup pistachio nuts, roughly chopped and dry toasted
¾ cup prunes, halved
1 bunch fresh coriander (or basil or parsley)
Zest of 2 lemons
1 tablespoon ground cumin
Chilli flakes (optional)
To serve
Chopped fresh coriander
Lemon wedges
Method
To assemble
Lay a schnitzel out on a clean chopping board. If you are using beef schnitzels which are much larger than lamb ones, you may want to cut them in half so you have two smaller pieces to roll up.
Near one edge of a piece of schnitzel, place a slice of cheese, a slice of capsicum, a few pieces of onion, a few pistachios, half a prune, a few coriander leaves, a sprinkle of lemon zest, a pinch of chilli flakes (if using) and a pinch of cumin. Season with salt and pepper and roll up carefully. Secure the roll with a toothpick or bamboo skewer by threading it through the meat a couple of times where it joins. The rolls will tighten up lots when cooked, so don't worry if they seems a bit fragile at this point.
Repeat for the remainder of the schnitzel. Brush the rolls all over with a little oil and season with more salt and pepper as required. Place on a hot BBQ grill or in a frying pan on a high heat, turning every couple of minutes to brown evenly. It will take about 10 minutes for the lamb or beef rolls to cook through.
To serve
Remove from the heat, sprinkle with fresh coriander (or mint or parsley) and a squeeze of lemon. I'd serve these with toasted garlic pita breads (or garlic bread) and a fresh green salad.