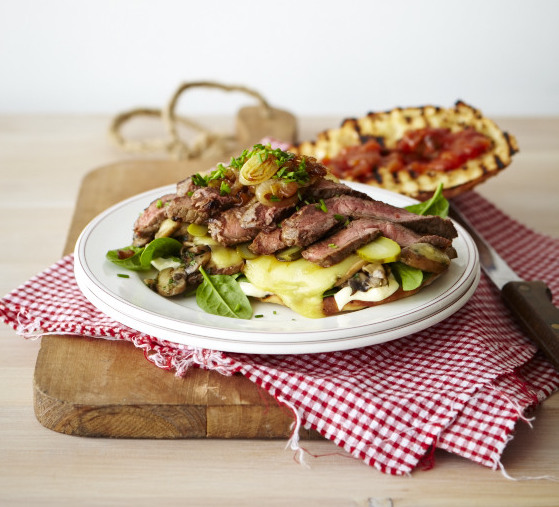 Photo courtesy of Manja Wachsmuth Photography
Steak, cheese and onion melts
I'll admit it's not the most elegant meal that ever was, but it sure tastes damn fine (my husband gave this a 10/10). Sort of half way between mushrooms on toast and a steak sandwich – I've got all the good stuff in. One of the things that makes it great is the Turkish bread. I get mine at my local fruit shop of all places, but bakeries and specialty food stores should have them too. If you can't find them, ciabatta buns or French stick would work too. You can choose to have a sandwich lid, or just eat it open with a knife and fork.
Ingredients
600g Quality Mark sirloin or rump steak
3 cloves garlic, crushed
1 ½ cups sliced button mushrooms (about 250g)
2 tsp fresh thyme leaves (or rosemary)
2 cups baby spinach leaves
1 tablespoon Dijon mustard
½ cup finely chopped fresh parsley
Caramelised onions
25g butter
3 onions, thinly sliced
2 tablespoons balsamic vinegar
2 tablespoons brown sugar
To serve
6-8 Turkish buns or rolls
Baby spinach
Mayonnaise and/or tomato relish
Sliced gherkins or sandwich pickles (optional)
8 slices mozzarella or Colby cheese
Handful chopped chives
Method
Preheat the oven to grill.
Caramelised onions
To make the caramelised onions, heat the butter over a medium-low heat until it froths. Add the onions and cook, stirring frequently, for about 25-30 minutes, until the onion is very soft. Add the balsamic vinegar and brown sugar and cook for another 10 minutes until jammy. Season as required.
Beef
Pat the steak dry with a paper towel, brush with oil and season with salt and pepper. Heat a splash of oil in a pan over a high heat. Add the steak and cook for a couple of minutes until one side is browned and crunchy. Turn over and cook for another couple of minutes, or until done to your liking.
Transfer to a wooden board loosely covered with foil to rest for 5-10 minutes before carving into thin slices across the grain.
Heat 1 tablespoon oil in a pan over a medium-high heat. Add the garlic, mushrooms, garlic and thyme and cook for 5-10 minutes until soft. Add the spinach and cook for another 5 minutes until most of the moisture has been evaporated. Stir through the mustard and parsley, and season with salt and pepper to taste.
To serve
Lightly toast the Turkish bread and spread with mayonnaise and/or relish. Add spinach and mushrooms,  pickles (if using) and cheese. Cook under the grill for a few minutes to melt the cheese. Add sliced steak and the onion, and sprinkle with chives. If you like, add a few drops of hot/chilli sauce for extra kick!
Tips
A key to cooking a steak well is having the pan searing hot when it goes in – you want to hear a sizzle. If the pan isn't hot enough, you'll end up stewing it and that makes it tough and rubbery.
Resting is a very important step you can't skip if you want a perfect steak – it allows the meat to relax and the juices settle back into the meat, instead of running out all over the place when you cut into it.
If you can't be bothered making your own onions, you can buy premade onion jam or caramelised onions.
The caramelised onions can be kept in an airtight container in the fridge for a couple of weeks – it's great on sandwiches.