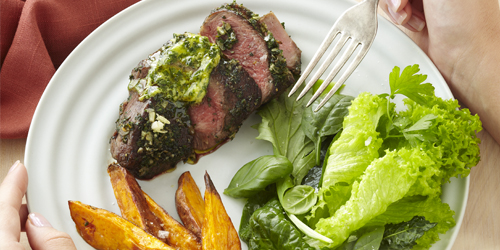 Quite possibly my favourite cut of lamb, they are juicy, hugely flavoursome and have great texture with no pesky bones. My husband can eat one all to himself when he's hungry, but normally a half would do for the average eater. Just make sure you only cut them after they are cooked and rested for maximum juiciness. I get my lamb rumps from Neat Meat – best flavoured lamb I've ever had.
Ingredients
3 – 4 Quality Mark lamb rumps (Alternative Cut – lamb chops (grill or pan fry)
Sea salt and freshly ground pepper
1 tablespoon finely chopped rosemary
1 tablespoon finely chopped fresh sage
1 tablespoon finely chopped thyme leaves
1 clove garlic, crushed
Herb butter
75g butter, softened
1 tablespoon capers, finely chopped
1 tablespoon finely chopped mint leaves
1 tablespoon finely chopped parsley
1 tablespoon finely chopped chives
2 teaspoons Dijon mustard
Zest of 2 lemons
Method
Preheat the oven to 210c.
Mix the butter, capers, mint, parsley, chives, mustard and lemon zest together in a bowl. Spoon onto a piece of cling film and roll up the ends to form a sausage shape. Refrigerate until needed.
Heat 1 tablespoon of olive oil in a frying pan over a high heat. Season the lamb rumps and sear them in the hot pan until browned all over. Remove from the pan and leave to cool slightly.
Combine the herbs and the garlic in a bowl. Drizzle the lamb rumps with a little more olive oil then coat with the herb mixture, pressing it on well. Place in a roasting tray and roast for 15 minutes. Remove from the oven and rest for 10 minutes.
To serve, slice each rump in half and top with a slice of the herb butter. Serve with a green salad and oven baked kumara chips.