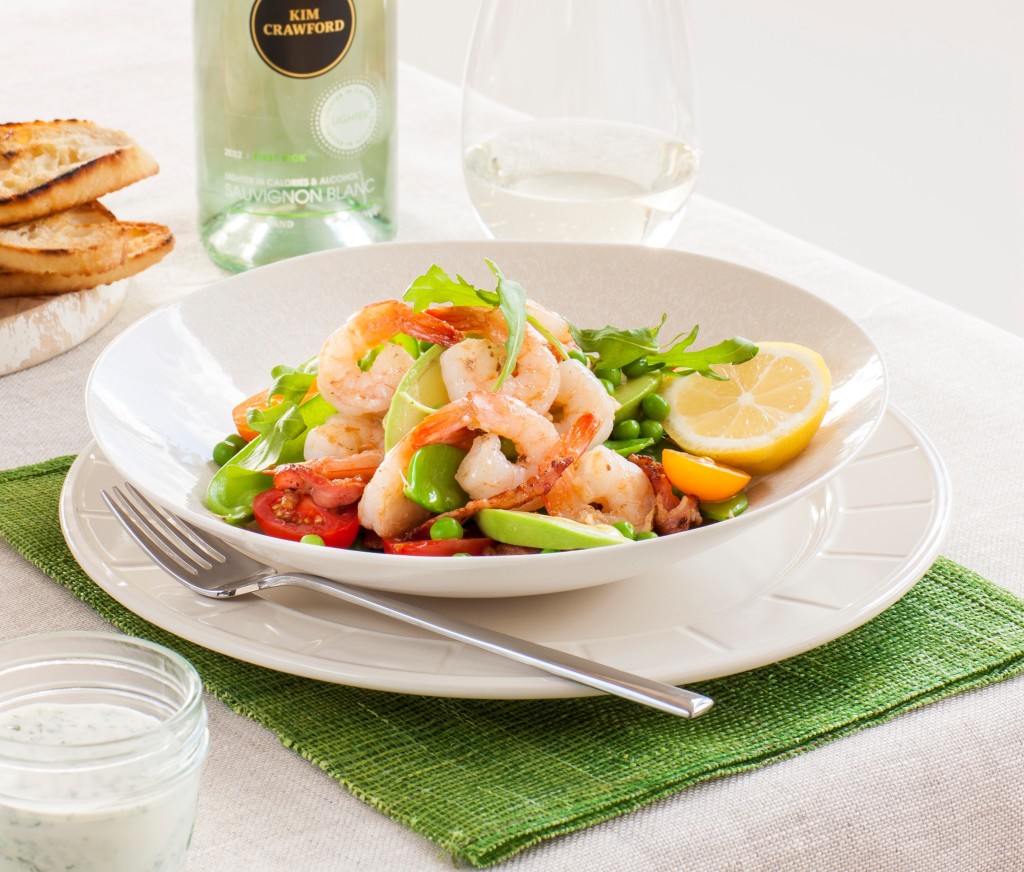 Prawn salad with bacon, peas and lemon coriander dressing
Ingredients
400g prawns, shelled and deveined, tails intact
1 clove garlic, crushed
2 -3 handfuls rocket
¾ cup peas, cooked and drained
4 rashers bacon, chopped into pieces
¾ cup cherry or grape tomatoes, halved
1 handful sugar snap peas (or snow peas)
1 avocado, sliced
1 tbsp parsley, finely chopped
¼ cup basil leaves, finely chopped
Zest of 1 lemon
1 tbsp lemon juice
1 tbsp olive oil
2 tbsp mayonnaise
Microgreens or sprouts, to garnish (optional)
Grilled ciabatta, to serve
Method
Heat a little olive oil in a frying pan over medium high heat. Add the bacon and fry until crispy. Set aside to drain on paper towels.
Whisk the lemon juice and zest, olive oil, basil, parsley and mayonnaise together until well combined (or use a mini processor). Taste and season with salt and pepper.
Toss the rocket in a little lemon juice and olive oil, then place in a serving dish. Add the peas, bacon, tomatoes, sugar snap peas and avocado.
Wipe the bacon pan with a paper towel, heat a splash of oil (or a knob of butter) over high heat, and sauté the prawns and crushed garlic for a couple of minutes until the prawns are only just cooked. Season with salt and pepper and a squeeze of lemon juice, then add to the salad. Drizzle the dressing over top, sprinkle with micrgreens and serve with grilled ciabatta.