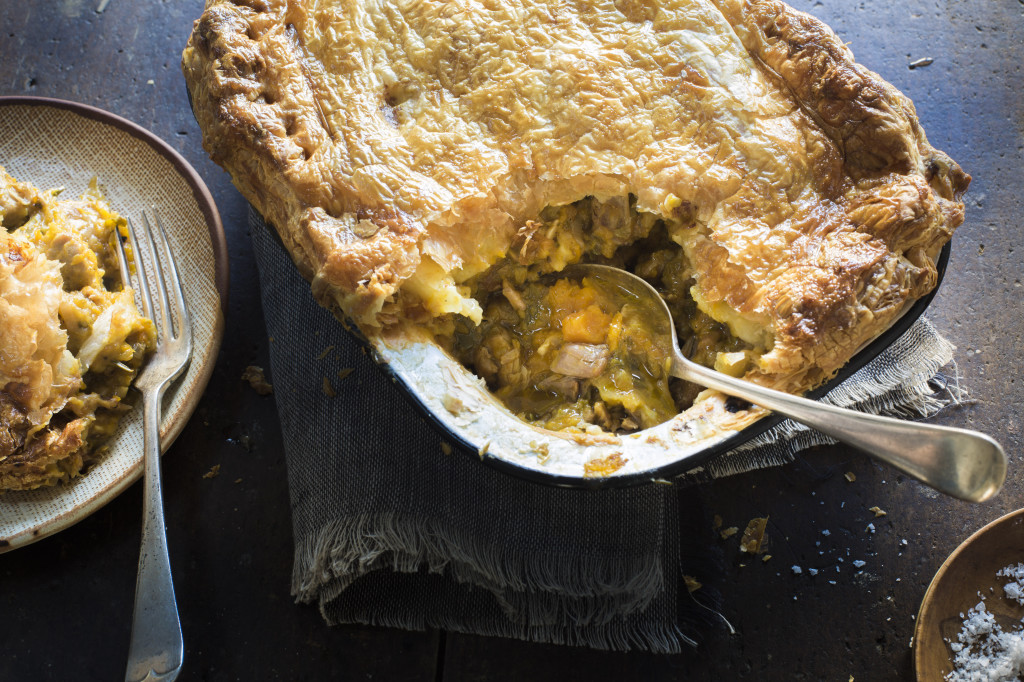 Pork & pumpkin pie
Serves 5-6
Prep time: 20 minutes
Cooking time: 3 ½ hours
Ingredients
500g pumpkin, peeled and cut into 4cm chunks
1 apple, peeled and sliced
1 tbsp rice bran or grapeseed oil, for frying
1kg boneless pork shoulder
50g butter (or ¼ cup olive oil)
1 large onion, chopped
2 shallots, chopped
1 leek, finely sliced
1 stalk celery, finely chopped
6 cloves garlic, peeled and roughly chopped
1 tbsp chopped fresh thyme leaves
10 sage leaves
2 tsp dried marjoram
1 ½ tsp fennel seeds
½ cup white wine
1 cup chicken stock
1 fresh bay leaf (or 2 dried)
3 tsp Dijon mustard
1 ½ tbsp cornflour mixed with ¼ cup stock or water
½ tsp ground white pepper
2 sheets flaky puff pastry (or use 1 x 400g block rolled out)
1 free-range egg, beaten with 1 tbsp milk
Method
Preheat the oven to 140c conventional bake.
Add the pumpkin and apple pieces to a large casserole dish with a lid (or a slow cooker).
Trim the excess fat away from the pork shoulder, then cut the meat into 5cm chunks. Season well with salt and pepper all over.
Heat 1 tbsp rice bran or grapeseed oil in a frying pan over a high heat. When it's very hot, add half the pork. Fry without turning until one side is lovely and crispy and brown, then turn over to brown the other side. Set aside the casserole dish with the pumpkin. Repeat with the remaining pork.
Tip excess oil from the pan and reduce the heat to medium. Add the butter (or oil) and the onion, shallots, leek, celery and garlic. Cook, stirring, for about 10 minutes until everything is soft. Add the thyme, sage, marjoram and fennel and cook another minute. Add the wine, stock, bay leaves, mustard, cornflour mixture and white pepper. Stir to combine. Carefully pour into the casserole dish and muddle everything around. Cover with the lid and bake in the oven for 3 – 3 ½ hours, or until the meat is very tender. Remove from the oven and change the oven temperature to 200c fan bake.
Stir everything around to make a sort of mush with the pumpkin, so it's more of a pie filling consistency. Season to taste with salt and pepper.
Grease a pie dish and line with pastry if you like – or, make it a pot pie with pastry on the top only. Brush the edges of the pastry with water. Add the filling and top with another layer of pastry. Crimp the edges with your fingers or a fork. Brush with the egg wash, cut a couple of steam holes and bake in the oven for 35 minutes until the pastry is golden.
Serve with your favourite steamed vegetables.