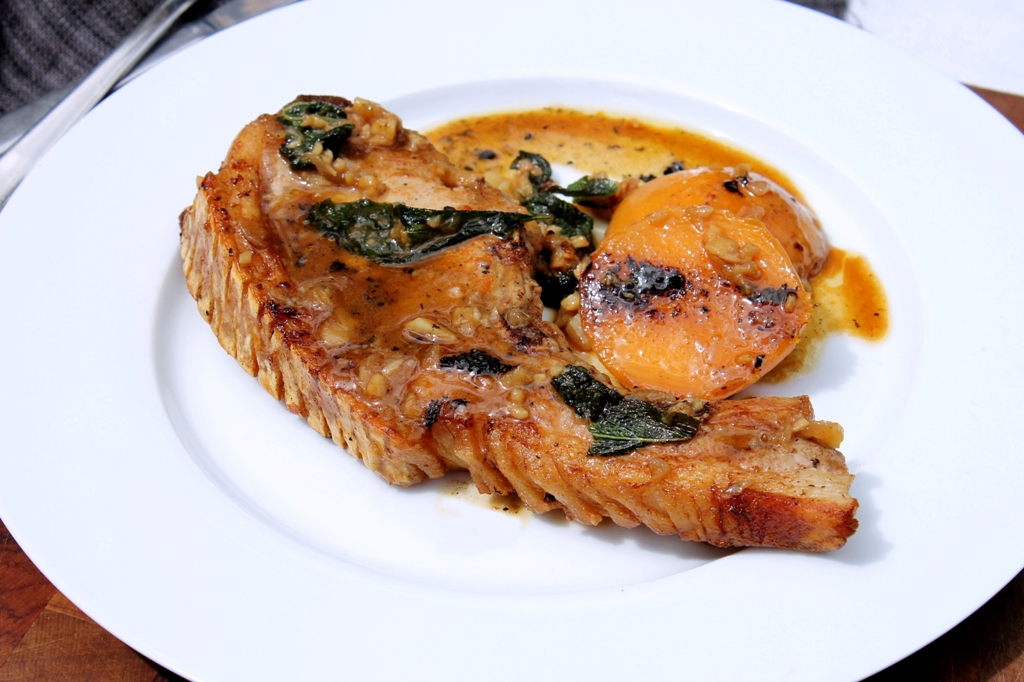 Pork chops with grilled peach, sage & garlic sauce
Pork and fruit go so well together, so don't be put off by this seemingly strange combination – I promise you it's simply scrumptious. I love the vibrant colour of golden peaches, and when they're grilled and served like this in a tasty, savoury sauce, it's a real zingy treat for the tastebuds – the tartness of the peach balances the richness of the pork chops. Cutting into the cracking and rendering it down before you cook the chops also means you get a crispier edge and you won't overcook the meat.
Serves 4
Ingredients
4-6 pork loin chops or cutlets (free-farmed is best)
3-4 golden peaches, halved
1 tbsp butter
2 cloves garlic
8-9 sage leaves
¼ cup dry white wine
1 cup salt-reduced chicken stock
Salt and freshly cracked pepper
Method
With a sharp knife, make a line of cuts right along each side of the skin of the pork crackling, so it looks a little like tyre tread. Cut through the skin down and into the fat, but not the actual flesh. This helps the fat render out and the skin will crisp up better.
Pat the pork chops dry with a paper towel and season with salt and pepper. Heat a large frying pan over high heat. Place the chops in the pan skin/crackling edge down, standing upright – you may have to hold them there, or try leaning them against the side of the pan. Fry for about around 7-10 minutes until the skin is golden and crispy. Place the chops flesh-side down in the pan and cook for a few minutes each side, until golden brown on the outside and medium-well in the centre. Remove from the pan, cover with foil and set aside to rest.
Add the peach slices to the pan and fry for a couple of minutes until golden brown on each side. Remove and set aside.
Tip the excess fat from the pan and wipe with a paper towel (leave the little browned and stuck on bits of meat there – they will add colour and flavour to the sauce). Place the pan back over medium heat, add the butter, garlic and sage, and cook for a few minutes until soft. Add the white wine, turn up the heat and let it bubble for 30 seconds. Add the stock and peaches and simmer for 5-10 minutes or until the sauce enough had reduced to a sauce suitable for pouring over the chops. Add the juices from the rested pork before serving and simmer for another minute or two.
To serve, place one or two chops on a plate, top with a couple of peach halves and drizzle with the sage sauce. This meal is lovely with green beans and potatoes.