Oaty Caramel Slice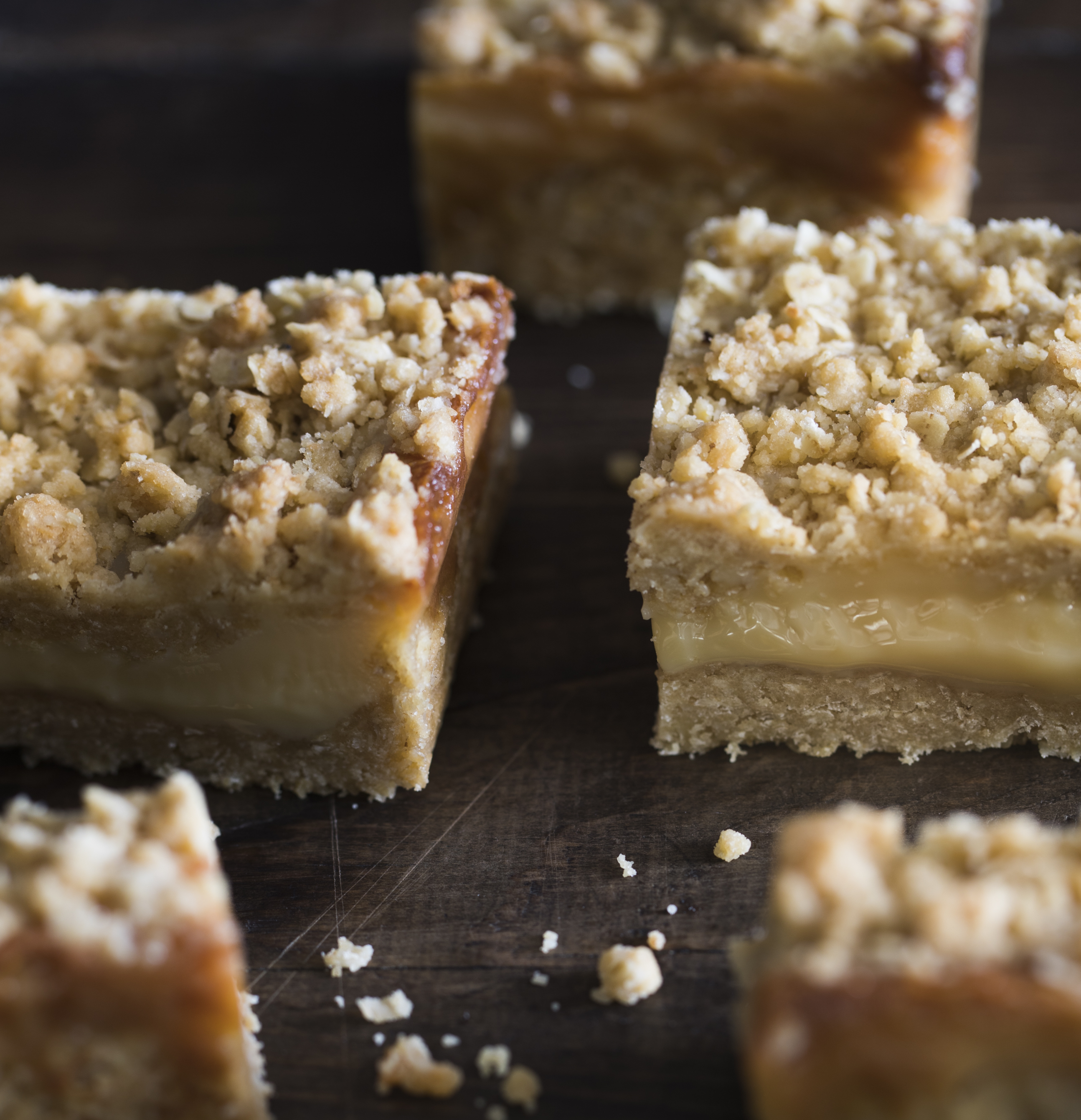 This is the beloved 'Oat My Goodness' slice from my cookbook, Eat. As you'll notice, there are two tins of sweetened condensed milk in it. Yes, it's bloody rich and too sweet. No, you probably shouldn't eat loads of it. But the way I see it, once you've sliced it into nice small pieces and shared it around to people who might need some love and sweetness in their life, it will end up doing far more good than harm. That's the power of decadent home baking…
Prep time – 20 minutes
Cooking time – 40 minutes
Makes 16-20 slices
Ingredients
Caramel filling
2 x 395g tins sweetened condensed milk (not lite)
150g butter
¼ cup brown sugar
2 tbsp golden syrup
Oaty goodness
250g butter, at room temperature, cubed
1 cup brown sugar, firmly packed
2 tsp vanilla essence
1 ½ cups flour
1 tsp baking powder
1 ½ cups rolled oats
¾ cup desiccated coconut
¼ tsp salt
Method
Preheat the oven to 160c regular bake.
Line a 20 x 20cm or 20cm x 30cm slice tin with baking paper so it fits nicely in the corners and goes up the sides and all the way around – you may need 2 pieces.
To make the caramel, add the condensed milk, butter, brown sugar and golden syrup to a saucepan over medium-low heat. Stir continuously until only just melted and combined (no need to simmer or boil). Remove from the heat and set aside.
Cream the butter and sugar for a few minutes until pale and creamy. Beat in the vanilla.  Sift in the flour and baking powder then add the oats, coconut and salt. Stir to combine – it will look a bit dry and crumbly.
Add 2/3 the oaty mixture to the base of the tin and press into an even layer (a layer of clingfilm on top can help with sticking).
Pour the caramel over the base, then bake in the oven for 15 minutes. Remove from the oven and let sit for 5 minutes until the caramel get a skin on top.
Crumble the remaining oat mixture lightly over the caramel. Return to the oven for another 25-30 minutes. The edges of the caramel should be deep golden and puffy when it's ready, and the crumb starting to go golden all over.
Remove from the oven and allow to cool, then refrigerate before slicing to allow the caramel to set. I reckon it's best stored in the fridge, too.
Note: If you use cooking paper instead of baking paper here, you might get some pretty bad caramel stickage. I know this because it's happened to me and I ended up picking bits of chewed paper out of my teeth.