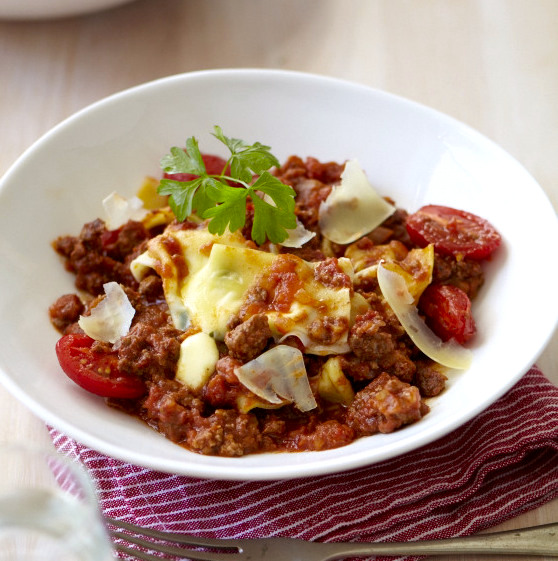 Tasty Mince with Creamy Mozzarella & Basil Parcels
Serves: 4-5
Preparation time: 25 minutes
Cooking time: 20 minutes
Photo courtesy of Manja Wachsmuth Photography

These deliciously tasty creamy mozzarella and fresh basil parcels add a delicious burst of flavour and texture to a Bolognese sauce. I've just wonton wrappers instead of making my own pasta to save time – you can find them at specialty food stores, Asian food stores and even some butcheries and fruit & vege shops. They are very moreish, so careful not to scoff them all while you're cooking them.
Ingredients
500g Quality Mark beef mince
1 onion, finely chopped
1 clove garlic, crushed
2 tablespoons tomato paste
400g can chopped tomatoes in juice
1 cup Salt Reduced Beef stock
1 teaspoon sugar
1 punnet cherry tomatoes, halved
Mozzarella parcels
1 packet wonton or dumpling wrappers
200g mozzarella (fresh is delicious!)
1 bunch fresh basil, leaves picked
1 egg, lightly beaten
To serve
Fresh basil or parsley
Freshly grated Parmesan
Method
Sauce
Heat a little oil in a large frying pan over a very high heat. When the pan is piping hot, add the mince, break it up quickly with a wooden spoon and leave for a few minutes it so it browns nicely. Stir it a bit to brown all over. Transfer to a bowl, cool slightly then drain off any fat.
Wipe out the mince pan and turn heat down to medium. Add another tablespoon oil, the onion and garlic. Stir for 5 minutes until soft and translucent. Add the tomato paste, tinned tomatoes, stock and sugar. Simmer for 15-20 minutes or just until it becomes a pasta sauce consistency. Season to taste. Add the cherry tomatoes (if using) and simmer for another few minutes.
Mozzarella parcels
Slice the mozzarella into 2-3cm pieces. Brush a wonton wrapper with egg, and place a slice of cheese and a basil leaf in the middle. Season with salt and pepper and fold it up. Press the edges firmly with your fingers to seal. Repeat with the remaining filling. You can cut the ends off if you have lots of excess pastry sticking out.
Bring a large saucepan of water with a pinch of salt to a rapid boil. Add the parcels and cook for about 5 minutes, then drain. To serve, stir mozzarella parcels through the mince and finish with fresh Parmesan shavings and chopped basil or parsley.
Tips
Browning the mince is so important for adding flavour. Cooking it over a high heat and splitting it into two batches all helps create flavourful mince.
Add some colour and up the vegetable content of the dish by adding 2-3 cups of chopped spinach to the mince mixture with the stock. You'll just need to simmer it for a little longer to reduce it.
For a real treat, try using fresh mozzarella in the ravioli.
Try not to add too much filling or the ravioli will be bulky and hard to seal.  If the ravioli isn't sealed properly, water will get in and make everything soggy.
To make crispy basil leaves, heat vegetable oil over a medium-high heat in a small saucepan. Add a few whole basil leaves and cook for 10 seconds. Gently remove with a slotted spoon and rest on paper towels until ready to serve.
Use an oil with a high smoke point for frying meat over a high heat, e.g. grape seed or rice bran oil. Olive oil is good for a medium heat, when cooking onions and garlic.