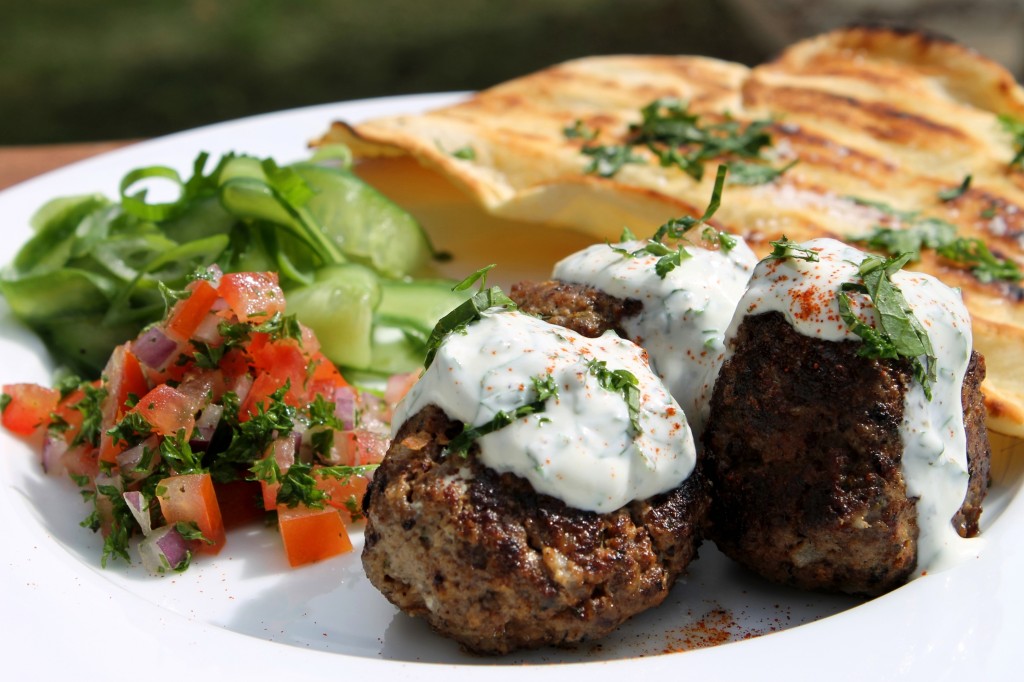 Lebanese meatballs recipe
There are so many ways to use a plain old packet of mince, and turning it into meatballs has to be one of my favourites. This is my take on a Lebanese style dish – loads of fantastic robust flavours such as garlic, lemon and olive oil infused with soft herbs and spices. The little flatbreads are so easy to make (no need for yeast or rising); just mix the dough, roll it and whack it on the BBQ to cook. If you don't have the time, just use bought pita breads or souvlaki – easy.
Here I've served my meatballs with a simple salad of cucumber ribbons, spring onions and coriander drizzled in lemon juice and olive oil, as well as a fresh tomato, chopped parsley and red onion salsa. You can make whatever inspires you or whatever fresh seasonal salad ingredients you have in the fridge.
Ingredients
Meatballs
600g beef or lamb mince (I use standard mince, not premium – I reckon it has more flavour)
1 tbsp olive oil
1 clove garlic, crushed
1 egg, lightly beaten
Zest of 1 lemon
1/2 onion, finely chopped
1 tsp ground allspice
1 tsp ground cumin
1/4 tsp ground ginger
1/2 cup fresh breadcrumbs soaked in 2 tablespoons milk
1/4 cup finely chopped parsley or coriander
1/2 cup chopped mint leaves
1/2 cup feta, crumbled
1/2 tsp salt
Yoghurt dressing
1/2 cup unsweetened yoghurt (plain or Greek)
1 clove garlic, crushed
1 tbsp lemon juice
1/2 cup finely chopped mint/parsley/coriander – one or all
Method
To make the meatballs, combine all the ingredients except the feta into a large bowl and mix well with clean hands. Gently combine the feta at the end along with a good crack of balck pepper (or 1/2 tsp white pepper). Shape into balls, (big or small, up to you), cover and refrigerate for 30 minutes or until needed (can make a day ahead).
To make the dressing, combine all ingredients and mix well. Taste and season with salt and pepper and more lemon juice if you think it needs it. You can add some chilli if you like a bit of a kick. Cover and refrigerate until needed.
Cook meatballs on a heated oiled BBQ plate or frying pan until just cooked through.
Serve the meatballs drizzled in the yoghurt sauce, and garnish with a little extra herbs and a dash of paprika.
Flatbreads
500g self raising flour
1/2 tsp salt
1/2 cup unsweetened yoghurt
1/4 cup olive oil
Warm water
Chopped fresh herbs
Combine the dry ingredients in a bowl and mix well. Make a well in the centre and add the yoghurt and oil. Mix, adding water  gradually until it forms a soft dough. Turn the dough out on to a clean surface and knead for a couple of minutes until smooth (you may need to add a little more flour). Divide into 8 balls, then roll each piece out thinly in a floured benchtop, into a rough circle or whatever shape you like.
Cook the flatbreads on a hot oiled BBQ grill (or in a very hot frying pan) for a few minutes each side until cooked through, crispy and golden. Drizzle with extra olive oil, sprinkle with salt and chopped herbs and/or chopped garlic.