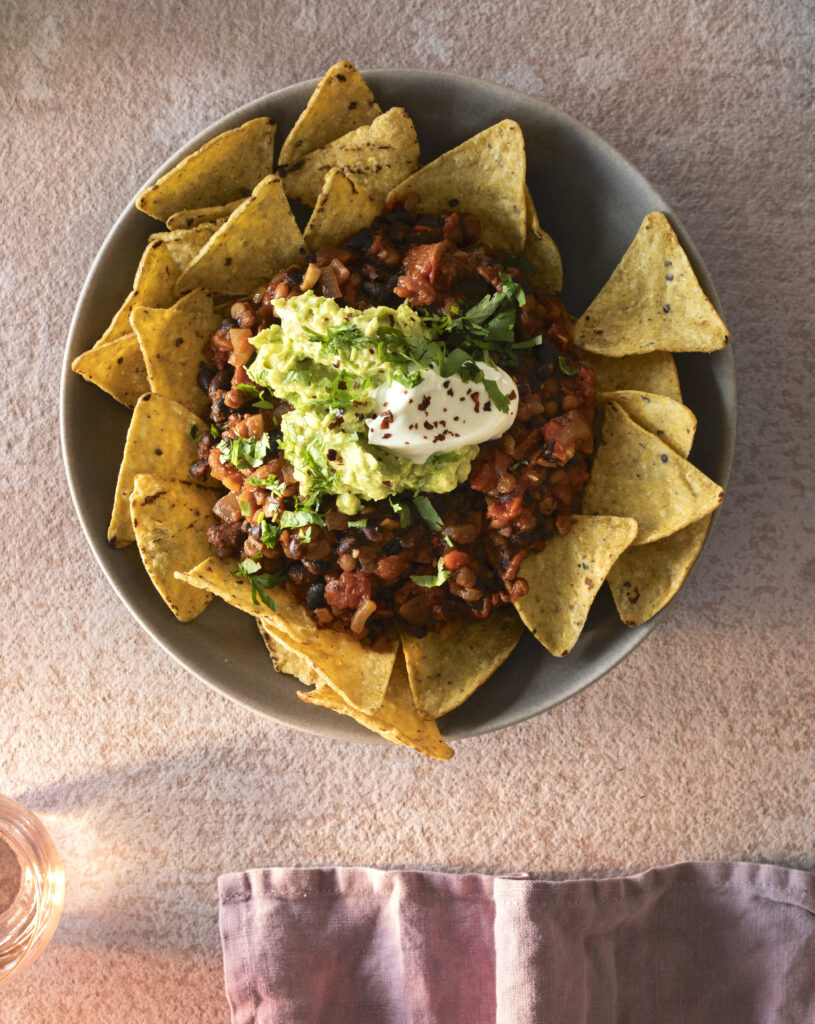 Meat, egg and dairy-free nachos for the win. This recipe from my new plant-based book, SUPERGOOD, is one of my favourite recipes in the world – and credit can actually go to Douglas for it! It's delicious and super-speedy to make using pantry staples. Leftovers are always in hot demand for the lunch the next day, 'cause the sauce is even better reheated. If you're cooking for a big hungry family I'd double the recipe (you'll need a big ol' pot). Go mad with toppings, that's what makes it epic!
Prep time 15 minutes
Cooking time 30 minutes
Serves 4
To make gluten-free, make sure your stock, corn chips and tortilla chips are gluten-free.
Ingredients
1 large onion, finely chopped
3 cloves garlic, crushed
1 tbsp paprika
1 tsp ground cumin
1 tsp ground coriander
½ tsp chilli powder
1/3 cup red wine
1 x 400g can brown or puy lentils, drained and rinsed
1 x 400g can black beans, drained and rinsed
2 x 400g cans chopped tinned tomatoes
½ cup or water
1 ½ tbsp brown sugar
2 tsp imitation chicken or vegetable stock powder*
½ tsp salt
Extra virgin olive oil or grape seed oil, for frying
To serve
Good quality natural corn chips
Aioli (click here for an egg-free recipe)
Smashed seasoned avocado
Chopped fresh coriander
Fresh lime juice
Chipotle or Tabasco sauce (optional)
Method
Preheat the oven to 180c regular bake.
Add about 3 tbsp oil to a large frying pan over a medium heat. Add the
onion and cook, stirring, for about 10 minutes until soft. Add the garlic and
cook another minute or so.
Add the spices and cook for another minute, stirring so it doesn't
stick.
Add the red wine, turn up the heat and let it bubble for 10 seconds.
Add the drained lentils, beans, tomatoes, water, sugar, stock and salt. Stir, then bring to a simmer for about 15 minutes until slightly reduced. Add more salt to taste if need be. Set aside.
Add the chips to a roasting tray with a splash of oil and some salt. Toss to combine and bake in the oven for 5-10 minutes, or until crispy.
To serve, spoon the bean sauce over the crunchy chips and top with lots
of aioli and mayo and coriander. A squeeze of lime or lemon and some chilli
flakes or Tabasco would go down a treat, too.
Tips
*Use a good quality one without added numbers. You can leave the stock out and use liquid stock instead of water if you like, but I like ramping up the flavour.
If you have some dairy-free cheese, you can sprinkle some over the chips before you bake them if you like.
You can serve this mixture wrapped in tortillas like a burrito if you like, or just serve with rice for a different style of meal.