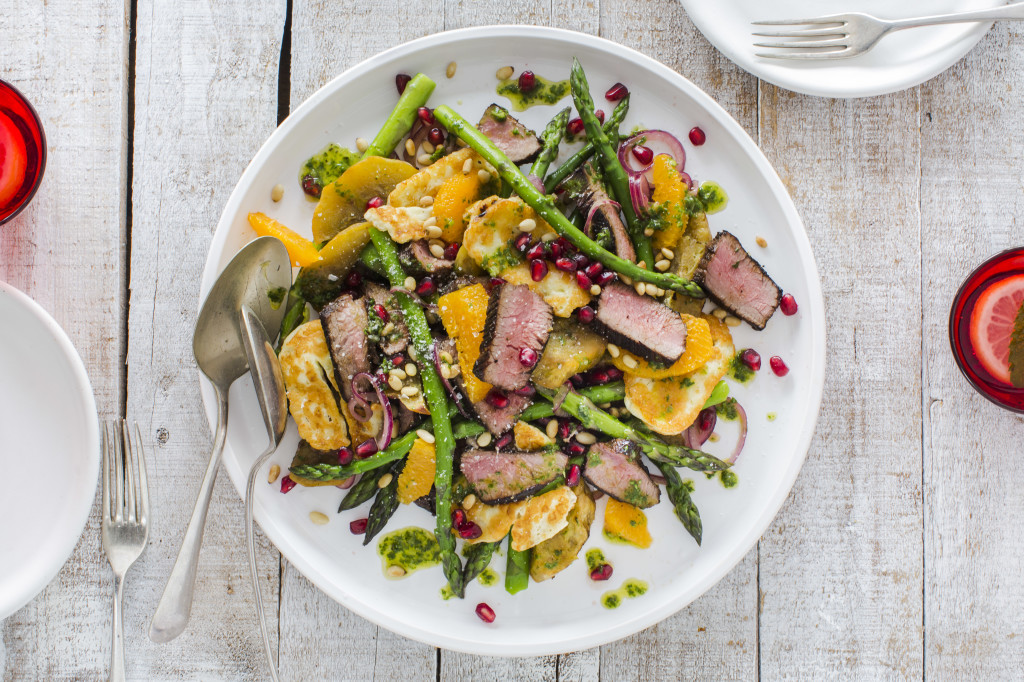 Lamb and halmoui salad with kumara
This recipe is utterly festive, fresh and tasty! If you can't find lamb rumps, you can use steaks or medallions – they will only need to be pan-fried until medium-rare rather than finished in the oven. If you can't find pomegranates (they're here in summer), use chopped ripe strawberries or even grapes in their place. If you have an avocado, it'd also be a welcome addition.
Prep time: 20 minutes
Cooking time: 35 minutes
Ingredients
Lamb
3-4  lamb rumps
Salad
1 red onion, very thinly sliced
1 lemon
2-3 large kumara, peeled and chopped
2 bunches asparagus, woody ends snapped off
200g haloumi, sliced
1 orange, peeled & sliced
¾ cup pine nuts, lightly toasted in a dry pan
Seeds/jewels from 1/2 a pomegranate (see how below)
Basil vinaigrette
1/4 cup olive oil
2 tbsp red or white wine vinegar
1/2 cup basil leaves
Juice from 1 orange
3 tsp honey
1 clove garlic, crushed
Method
Preheat the oven to 210c fan bake.
If you have a small food processor, use it to whizz the vinaigrette ingredients up. Or, chop the basil finely then whisk everything together until combined. Season to taste and set aside.
To cook the kumara, you can either simmer in salted water for 10 minutes or so until tender, or toss in olive oil and roast in the oven for 25 minutes until golden.
Add the onion to a non-metallic bowl with a big pinch of salt and the juice of a lemon. Toss together and leave to sit until you're ready to serve – squeeze excess moisture out before adding to the salad.
Pat the lamb rumps dry, brush with rice bran oil and season all over with salt and pepper. Heat a frying pan over a high heat, when hot add another splash of rice bran oil and sear the lamb for a couple of minutes to brown all over. Transfer the seared lamb to a roasting tray and roast in the oven for about 10-12 minutes for medium-rare. Remove from the oven, cover loosely with foil and rest for at least 10 minutes before slicing thinly across the grain (you can cut the fat off now if you want.)
Simmer or steam the asparagus for a few minutes until tender, but still with a bit of bite. Drain, season with salt and pepper and set aside.
Just before serving, brush the haloumi with a little oil, and fry over medium-high heat for a couple of minutes each side, until crispy and golden.
To serve
Toss the lamb, kumara, asparagus, red onion, orange slices, half the nuts and half the pomegranate jewels in a bowl with half the vinaigrette.
Arrange on a platter or bowl and add the haloumi. Sprinkle with the remaining nuts and pomegranate, and drizzle with more vinaigrette. Season with salt and pepper before serving.
______________
To get seeds from a pomegranate
Slice around the pomegranate around it's middle, but only cut through the skin, not whole way through. Now twist it and pull it apart in to 2 halves where you've cut. Gently break each half in half again – it will naturally pull apart at the right place, and you'll be able to see where the natural segments are, which if you pull at them, should expose the seeds or  jewels. Gently rub your thumb/fingers over the exposed jewels to dislodge them – let them fall into a bowl of water. The seeds will sink and the papery membrane will float apart.