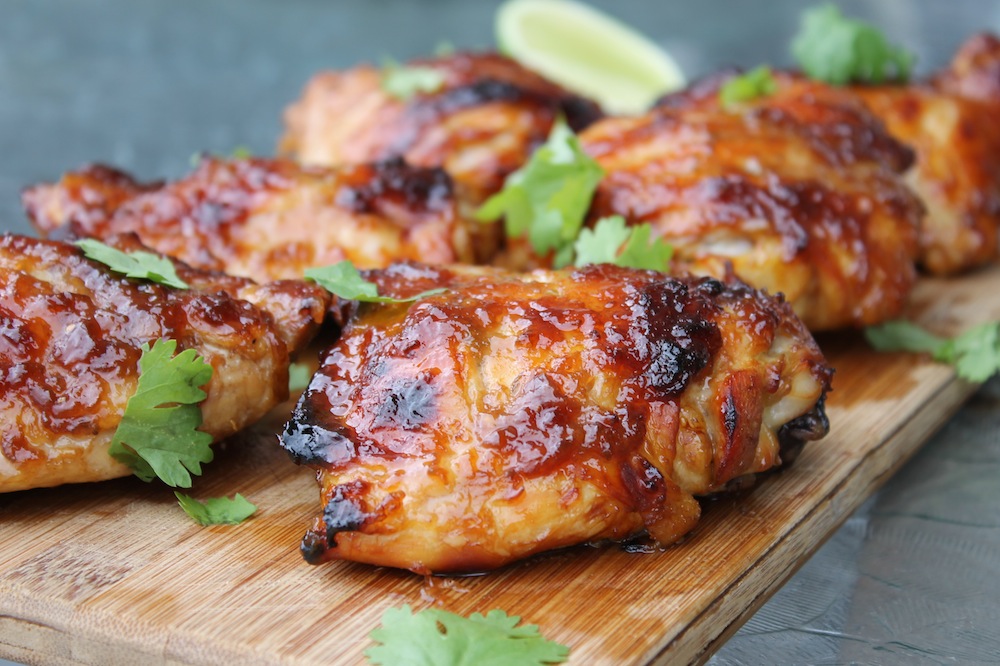 Hawaiian honeymoon chicken
I created this recipe in Hawaii, on my honeymoon – how appropriate! This is a sweet/sour creation – the reduced pineapple is tangy and delicious. It may be a tad more work than unscrewing a jar of store-bought marinade, but boy it's good and well worth it!  I like getting the chicken thighs with the bone in-skin on, myself, buy can can take the skin off (you can also try it with drumsticks if you like). If you use boneless skinless thighs, they will only need about half an hour in the oven and you might need a few more. You can cook these on the BBQ over a medium-low heat if you like; just use the hotplate not the grill as the marinade will burn. Mahalo and enjoy.
Ingredients
8-12 chicken thighs (I use bone-in, skin on)
3 cups pineapple juice
1 onion, grated
4 cloves garlic, crushed
1 tbsp ginger juice (made by finely grating ginger and squeezing out the juice)
1/2 cup dark rum (optional)
3 tbsp brown or palm sugar
2 tbsp peanut or rice bran oil
1/2 cup soy sauce
Zest and juice of 2 limes
Dash of chilli sauce
Fresh coriander, to serve
Lime wedges, to serve
Method
Preheat the oven to 190c regular bake.
To make the glaze, combine the pineapple juice, onion, ginger juice, garlic and rum (if using) in a large saucepan. Bring to the boil, then immediately reduce to a simmer. Keep simmering until about 3/4 of the mixture has evaporated – so you only have a quarter of the original amount left.  It might take about 30 minutes. It should be thickened (it will thicken more as it cools too).
Add the sugar, oil, soy sauce, lime zest and juice, and a dash of chilli (if using). Stir until the sugar has dissolved. Using a sharp knife, make a series of cuts into the chicken across the skin and into the flesh so the glaze can soak in. Brush each piece all over with the glaze. Place on a baking/roasting tray and cook in the middle of the oven for 40 minutes.
Brush with more glaze every 10 minutes.
Now, if you like,  you can either transfer the chicken to a preheated BBQ grill and cook for a few minutes each side (adds great flavour and char marks). Or, turn the oven to grill on medium and finish them off if they haven't browned up. This will help render the fat out of the skin, too. Don't leave it too long or the marinade may burn.
Sprinkle with chopped fresh coriander and a squeeze of lime. If you want it saltier, add another splash of soy sauce as well (I do!). These are great served with coconut rice and a nice fresh salad.
If you have any leftover marinade, you can strain it and serve it as a little extra sauce!