Gluten-free chocolate cheesecake
(Original version from Everyday Delicious)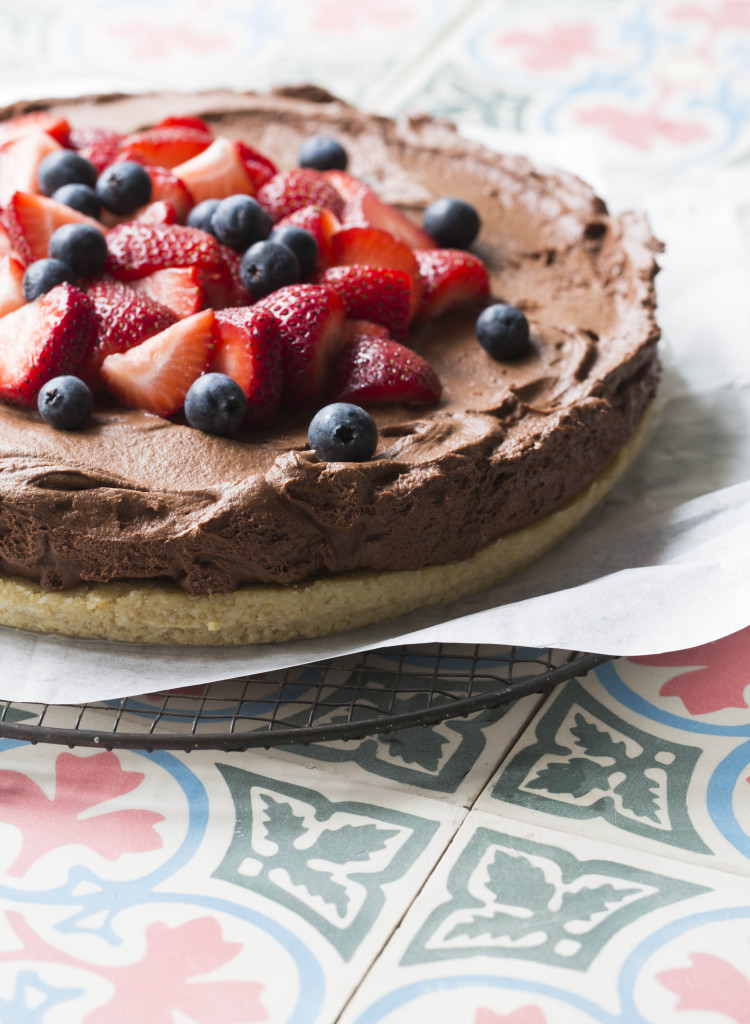 Gluten free cheesecake
I'm happy to say that this is as scrumptious as any cheesecake I've made. It's rich (which is why the creamy layer isn't too thick) so don't go nuts on the slice sizes. The filling uses good old Whittaker's chocolate (yes, its dairy-free if it's 50% cocoa or over), coconut cream and dairy-free cream cheese – which is available at most health food shops (I got mine from Harvest Wholefoods).
IMPORTANT NOTES

If you're OK with dairy

– I recommend you use normal cream cheese, and replace the coconut cream with 1 cup of normal cream, whipped to soft peaks. You can leave out the egg whites, as the cream will give enough aeration. You can also use any chocolate you like.
Double the filling ingredients if you want a stunningly big high cheesecake.
You can still leave the egg white out if you are egg-intolerant – it's just there to make the filling lighter.
If you can't find dairy-free cream cheese, try pureeing two large ripe avocados and using instead of/or as well as the cream cheese.
Ingredients
Base
1 1/2 cups cashew nuts (salted, raw or roasted)
3/4 cup dessicated coconut
1/3 cup coconut oil – OR – 50g butter, softened
1/3 cup brown sugar
1 tbsp lemon zest
1 1/4 cups ground almonds (almond meal)
Filling
250g good-quality eating chocolate – 50% cocoa or higher (Whittakers 50% cocoa and upwards is dairy-free)
400g coconut cream Look for a brand which doesn't contain stabiliser – Ayam or Faritrade are two options)
1 x 250g tub dairy-free cream cheese (or just use normal cream cheese if you are allowed dairy)
2 free- range egg whites
Topping
3-4 punnets fresh strawberries (or if they aren't in season, any other berries or fruit you like – or frozen berries)
1/4 cup berry jam mixed with 2 tbsp water (optional)
Method
Either the night before, or a couple of hours before, put the tin of coconut cream in the fridge. This will help separate the coconut cream from the coconut water.
Line the bottom of a 23-25cm diameter springform tin with baking paper. (It will come out higher in a smaller tin).
In a food processor, process all the crumb ingredients to a fine crumb. (Tip: I find tipping the processor up on it's side a little so it's on an angle helps it all mix up better and not stick up the sides).
Press the crumb into the bottom of the tin in an even layer, fairly firmly. Pop in the fridge.
Melt the chocolate in a heatproof bowl sitting over a pot of simmering water (not touching the water), until just melted, stirring every now and then. Remove the bowl from the heat and let sit for 20 minutes until it's slightly warm but not hot.
Take the tin of coconut cream out of the fridge. Tip it over, open it, then pour out the watery liquid at the top, leaving the firm cream behind – this is what you will use.
Beat together the cream cheese and coconut cream until well combined with no lumps. You may need to let the mixture warm up a bit if there are some stubborn lumps.
Using a spatula, fold in the chocolate mixture a third at a time, scraping the sides with a spatula as you go.
Lastly, if using, add the egg whites to a clean bowl. Wash the beaters, then beat the egg whites until soft peaks firm. Immediately fold 1/4 cup of the egg white through the chocolate mixture to aerate it, then fold the rest of it through until well combined. Scrape the mixture on top of the base and smooth out the top with the back of a hot spoon until smooth.
Refrigerate for at least 2 hours to set.
Warm the outside of the tin with a hot cloth, then undo the spring and gently move to a serving plate. Decorate with loads of fresh berries.
PS – Here's the cream cheese I found: