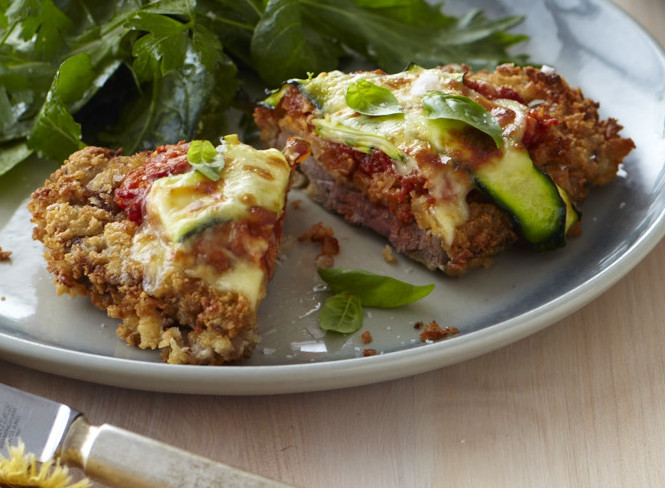 This is the Rolls-Royce of all beef schnitzel recipes – crunchy crumb coated beef, a generous spoonful of tasty homemade tomato sauce, creamy melted cheese and fresh peppery basil. I always make extra, because I think a cold schnitzel sandwich the next day with a little of the tomato sauce and some lettuce and mayo is almost as good as the main event. I've said to use fresh breadcrumbs, which I make by processing good-quality robust bread, like ciabatta. You can use use dried or panko instead, if you like.
Ingredients
Beef
500g Quality Mark beef schnitzels
Neutral oil, for frying (grape seed, rice bran, light olive oil)
¾ cup flour
2 free-range eggs, lightly beaten
2 cups freshly processed ciabatta breadcrumbs (or just use dried, or panko crumbs)
Tomato sauce
Extra virgin olive oil
3 courgettes, very thinly sliced or shaved (or use spinach)
1 onion, finely chopped
3 cloves garlic, chopped
1 x 400g tin chopped tomatoes
1 cup reduced salt beef stock
3 tsp dried oregano
1 tsp balsamic vinegar
To cook
3/4 cup freshly grated Parmesan
Slices of mozzarella cheese (or use fresh mozzarella, or cheddar)
Torn fresh basil leaves, to serve
Method
Preheat the oven grill to medium-high.
Heat a little olive oil in a pan over medium heat. Sauté the courgette slices for a few minutes to soften, season, then set aside. Add the onion to the pan with another splosh of olive oil, and cook for 5-10 minutes, stirring frequently, until soft. Add the garlic and cook another few minutes. Add the tomatoes, stock, oregano and balsamic. Simmer for 15-20 minutes until reduced to a thick tomato sauce. Taste and season with salt and pepper.
Cut the schnitzel into desired serving sizes then season with salt and pepper. Dust each piece in the flour, dip in the egg mixture and coat well with the crumb. Heat 1cm of oil in a large frying pan over a high heat. When the oil is nice and hot, shallow fry the schnitzels, a couple at a time, until golden brown on both sides. Set aside on paper towels.
Arrange the schnitzels on a baking tray lined with baking paper. Top each one with a large spoonful of the tomato sauce, a few slices of courgette, a sprinkle of Parmesan and a few slices of the cheddar cheese. Grill for about 5 minutes or until the cheese is melted and golden. Top with fresh basil leaves, and serve with a green salad and toasted wholemeal garlic pita bread.