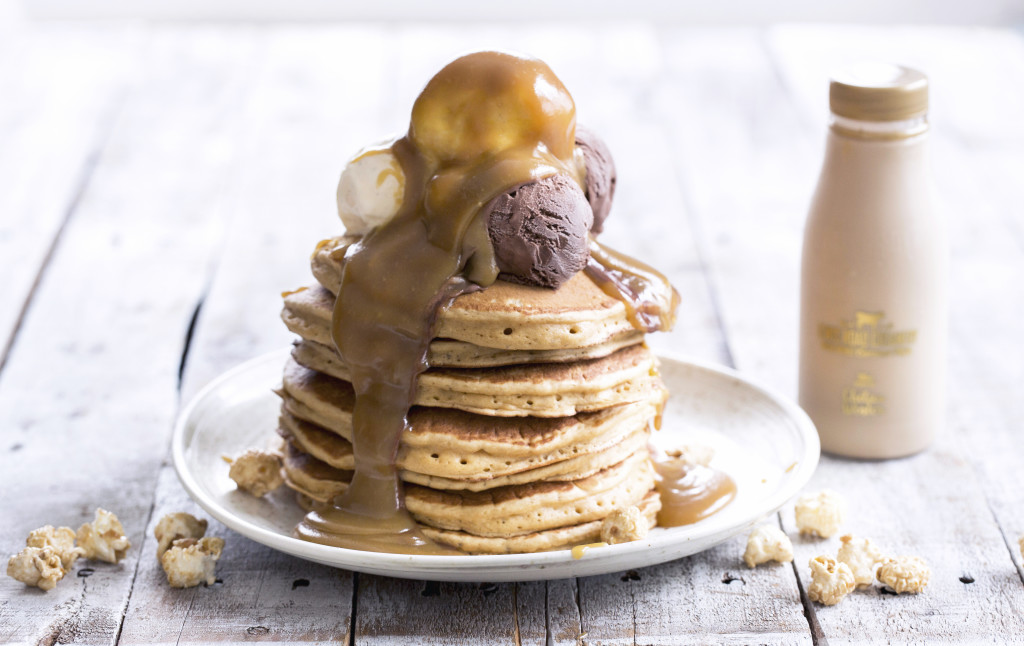 Hotcakes with butterscotch sauce
Makes 10–15 hotcakes
Prep time: 10 minutes plus resting time
Cooking time: 20 minutes
Ingredients
2 tbsp fresh lemon juice
2 cups milk
2 ¼ cups plain flour
2 tsp baking powder
1 tsp baking soda
pinch salt
3 free-range eggs
To serve – ice cream, butterscotch sauce (see recipe below), caramel popcorn, whipped cream or liquid cream, syrup, fruit, berries, coconut yoghurt
Method
Add the lemon juice to a non-metallic bowl, pour in the milk and stir to combine. Leave to sit for 5 minutes without stirring, to curdle.
Sift the flour, baking powder, baking soda and salt into a mixing bowl and whisk to combine evenly.
Beat the eggs another bowl (20 seconds or so with a handheld whisk or egg beater, just until fluffy).
Make a well in the dry ingredients and add the egg mixture, along with the soured milk. Stir with the whisk gently in the centre of the bowl, until all the flour comes in from the sides and the mixture is near enough to being smooth.
Heat a large (preferably non-stick) frying pan over a medium-low heat. Don't let it get too hot – to test, flick few drop of water in the pan. The drops should dance; if they just sit there, wait until the pan is a bit hotter.
If you have a good non-stick or cast-iron pan, you don't need to cook the hotcakes in butter – and you'll get a more even surface at the end this way. Otherwise, add the butter to the pan, then you can add half a ladle of batter to make a small sacrificial hotcake (the first one rarely works, I find). After that, try using no butter at all.
Cook for 30-60 seconds,  until bubbles form and pop on the surface, then flip over with a metal fish slice. Now they should puff up and rise. Leave for a minute or so until cooked through. The hotcakes should be golden brown-ish on both sides.
Either serve them as you go, or keep them warm in a 60c oven. Serve with whatever you like – butterscotch sauce, ice cream, whipped cream, chocolate sauce, syrup, fruit, caramel popcorn.
_____________________
Butterscotch sauce recipe
3/4 cup cream
1/2 cup brown sugar
1/3 cup sweetened condensed milk
50g butter
1/4 cup golden syrup
1/2 tsp sea salt
1 tsp vanilla essence
Melt the butter in a saucepan over a medium-low heat. Add all the remaining ingredients stir with a wooden spoon until and smooth and melted. Leave to simmer gently without stirring for 3-5 minutes or so until thickened – but keep in mind it will thicken as it cools too, so don't let it get too thick while it's hot. You can always reheat it to soften it up too. Stir through the vanilla at the end. Warm up slightly if you like before serving.