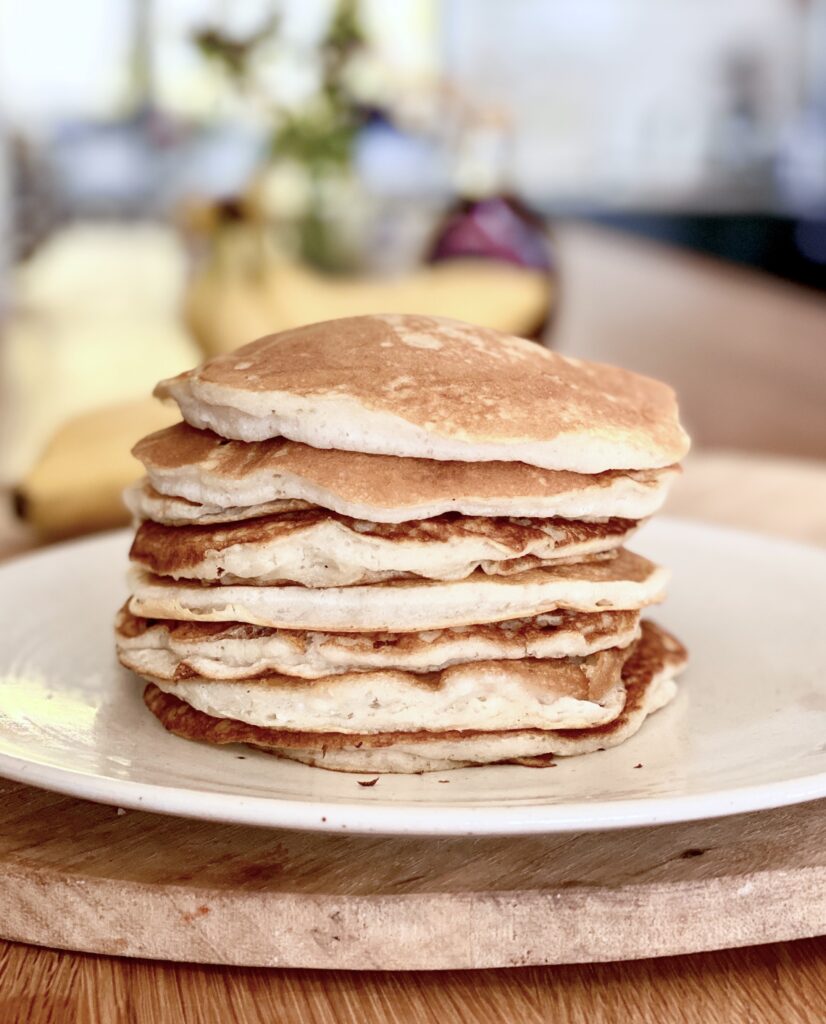 Birthday vegan hotcakes (gluten-free)
Cooking time – 20 minutes
Makes about 8-10 hotcakes
Prep time – 10 minutes
Ingredients
2 cups gluten-free flour mix (without raising agent added)
2 tsp baking powder
1 tsp baking soda
¼ tsp salt
1 x 400g tin chickpeas (organic is best)
3 tbsp caster sugar
2 cups plant milk (I used rice milk)
2 tbsp apple cider vinegar or lemon juice
3 tsp pure vanilla extract
Serving ideas
Icing sugar and lemon
Maple syrup, banana, berries, coconut yoghurt, ice cream
Method
Sift the flour, baking powder, baking soda and salt into a large mixing bowl and stir with a whisk to combine.
Drain the liquid (aquafaba) from the can of chickpeas into a medium mixing bowl (keep the chickpeas for another recipe). Add the sugar and whisk (or beat with an electric beater) for 30 seconds or so until it's a bit fluffy – it doesn't have to be stiff peaks or anything.
Make a well in the centre of the dry ingredients and add the whipped chickpea mixture, plant milk, vinegar and vanilla. Stir with a whisk until combined and mostly lump-free.
Heat a (preferably non-stick) frying pan over a medium-low heat. To test when it's hot enough, flick few drops of water in the pan. The drops should dance when it's ready. If your pan is a really good non-stick one, you might not even need coconut oil. Otherwise, add 1 tsp oil to the pan, then add about ½ a cup of mixture per hotcake. Let it cook for a minute or so until golden brown on the bottom and little holes have appeared on the surface. Flip over and cook for another minute or two until cooked through.
Keep the hotcakes on a plate in a just warm oven until ready to serve, then load up with your favourite luscious topping and hoe in.