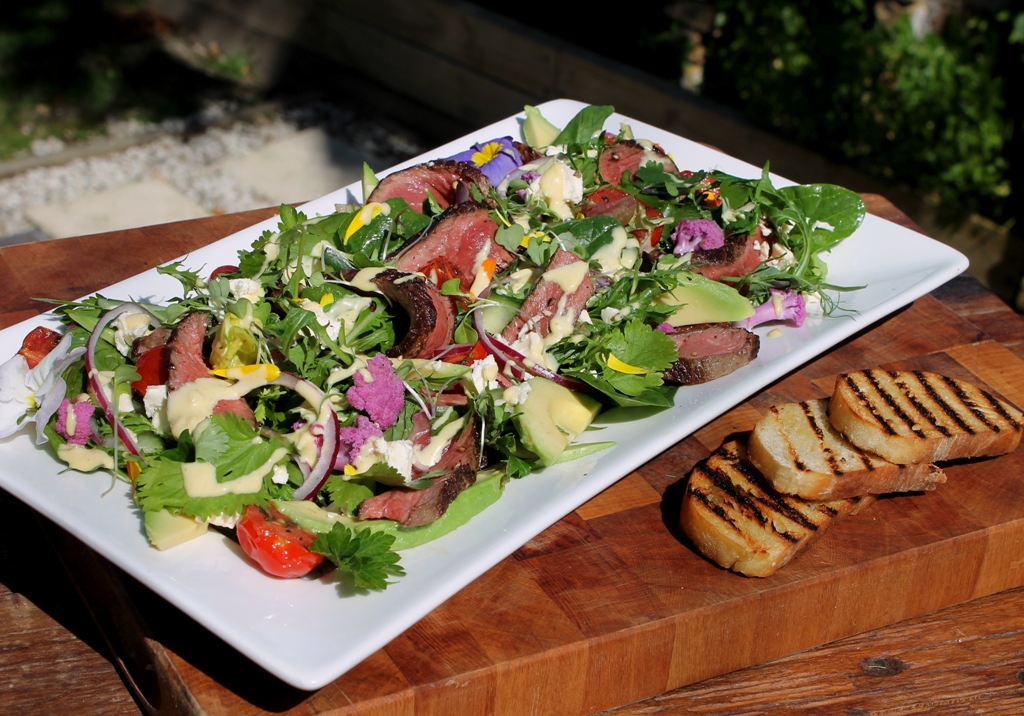 Beef salad recipe
This is not just a boring old bog standard beef salad – it's a fantastic mix of colours, textures and punchy flavours. The sweet, salty caramelised tomatoes, creamy avocado and feta, crunchy cauliflower and meltingly tender beef are a match made in heaven – and a generous drizzle of smooth, zingy mustard cream dressing brings everything alive.  You can be as creative with the salad ingredients as you like, really; just see what you can find and what's in season. If you want to have it as a dinner meal, add some lightly steamed new potatoes or pumpkin to the salad and serve with garlic pita bread.
Salad
500g rump steak (or steak of your choice), trimmed
½ cup feta cheese, crumbled in pieces
1 punnet strawberry tomatoes, halved (or use whole quartered tomatoes)
1 tbsp chopped fresh thyme leaves
½ tsp brown sugar
1 avocado, sliced
Mixed salad leaves
½ cup purple cauliflower florets, broken into very small pieces
½ red onion, sliced
½ cup cucumber ribbons
¼ cup assorted fresh soft herbs (I used parsley, coriander, basil and chives)
Edible flowers or microherbs (optional)
Fresh ciabatta or sourdough, sliced
Dressing
3 tbsp mayonnaise
1 tbsp Dijon mustard
½ tsp hot English mustard
1 tsp white wine vinegar
Method
Heat a little olive oil in frying pan or BBQ over high heat. Season the steak with salt and pepper and cook for a few minutes each side (depending on the size of the steak) until medium rare or cooked to your liking. Remove from the pan and rest for 10 minutes.
Mix the dressing ingredients together in a bowl to combine, taste and season with salt and pepper.
Drizzle the bread slices with olive oil, sprinkle with a little salt and grill until crispy.
Combine the tomatoes, brown sugar and thyme in a bowl with some olive oil, salt and pepper, and mix to coat. Heat a frying pan over medium high heat, add the tomatoes and cook for a couple of minutes until the outside just starts to brown (you don't want to cook them, just start to caramelise the outside). Remove from the pan and set aside.
Toss the lettuce in a little vinegar and olive oil, season with salt and cracked pepper, then arrange on a serving platter.
Slice the beef into thin slices across the grain, removing any fat or gristle. Arrange the beef strips and other salad ingredients artfully on top of the lettuce leaves, garnish with microherbs and edible flowers, drizzle with the mustard cream, and serve with lots of grilled ciabatta.
(Note – you'll notice I didn't actually use the strawberries in the salad, but you could, easily. I just needed them to a sweet tart I'm making).