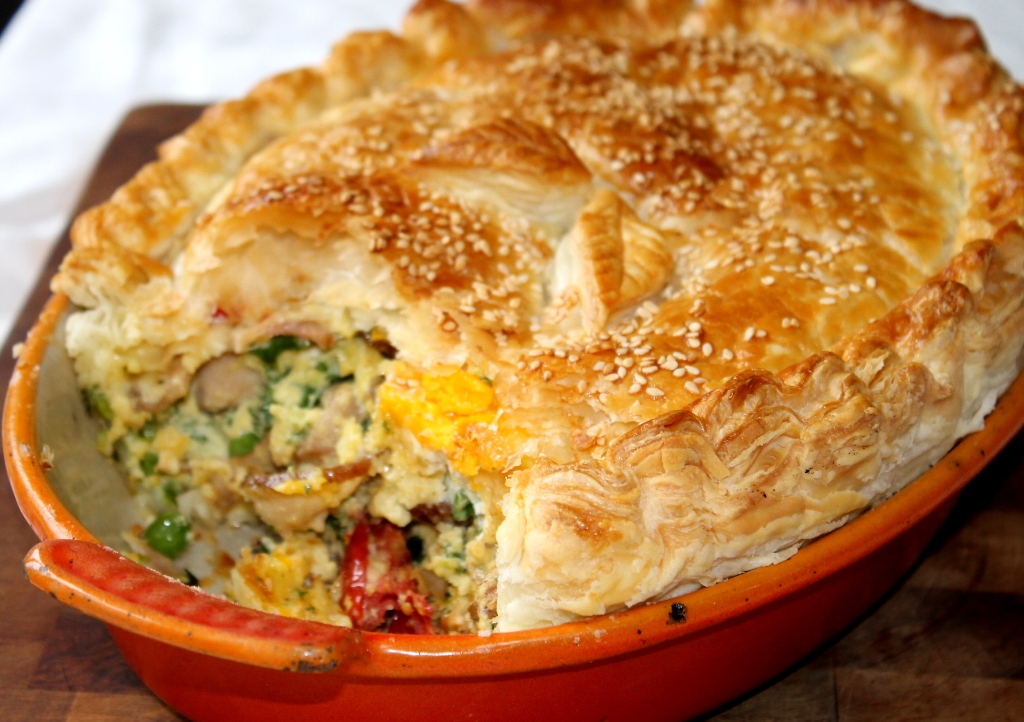 This is not your average old bacon and egg pie – it is a little extravagant, so if you want to beef it up for a family meal, you can add cooked pumpkin or potato and a few less eggs.
As I always say, a meal always tastes so much better when you use good quality ingredients. I don't want to sound too preachy, but I think if you can, use organic free-range eggs, and bacon with no added water or preservatives. Preferably free range bacon too, if you can – although it's tough to get all three of those things in a packet of bacon. You'll need to go to a good butcher (Neat Meat in Ponsonby Central has lovely bacon there.) If you use dry cured bacon with no water, you'll be amazed at the difference. Note the bacon will be salty already, and we use lots of it, so don't go crazy with the seasoning.
In true Chelsea style, I've added a little Parmesan, some mozzarella and some fresh herbs. The tiny hum of cayenne is only just detectable and the lemon adds a bit of freshness. You can use fresh cherry tomatoes if they are in season or if you prefer them to sun-dried. I was going to do a lattice top but then I thought ah, to heck with it – there's something so deliciously inviting about a giant golden pillowy pie top!
Ingredients
3-4 pre-rolled sheets flaky puff pastry (or roll out from block)
500g free-range bacon
12 free-range eggs, plus one for egg-wash
½ cup finely chopped parsley
¾ cup cream
Zest of 2 lemons
1/4 tsp cayenne pepper
1 1/2 cups cooked peas
Handful fresh basil leaves, torn
Handful spinach leaves, torn
5-6 pieces sun-dried tomato, chopped (optional – or use handful cherry tomatoes)
1 cup freshly grated Parmesan
Few slices mozzarella
1 tbsp sesame seeds
Salt and pepper
Method
Preheat the oven to 180c (non fan bake).
Heat a little oil in a large frying pan over medium-high heat, and fry the bacon in two batches until it goes golden and crispy. Drain on paper towels.
Grease the pie dish and line it with the pastry so it comes all the way up and over the edges, and moisten the edges so the top pastry layer sticks later. Arrange half the bacon on the bottom. Sprinkle the peas over.
Beat 5 of the eggs in a bowl with the cream, lemon zest, cayenne, parsley, a little salt and lots of cracked pepper, and pour over the bacon and peas. Add the basil leaves and spinach.
Top with another layer of bacon and the sun-dried tomato, then crack the 7 remaining eggs over the top, whole. Sprinkle with Parmesan and top with mozzarella.
Roll out the other sheet of pastry and lay over top. Brush the pastry with egg-wash, sprinkle with sesame seeds and bake in the oven for 45 minutes to an hour – or until pastry is golden brown and cooked through.
Serve with a fresh green salad and lots of tomato relish. Delicious cold or warmed for lunch the next day!