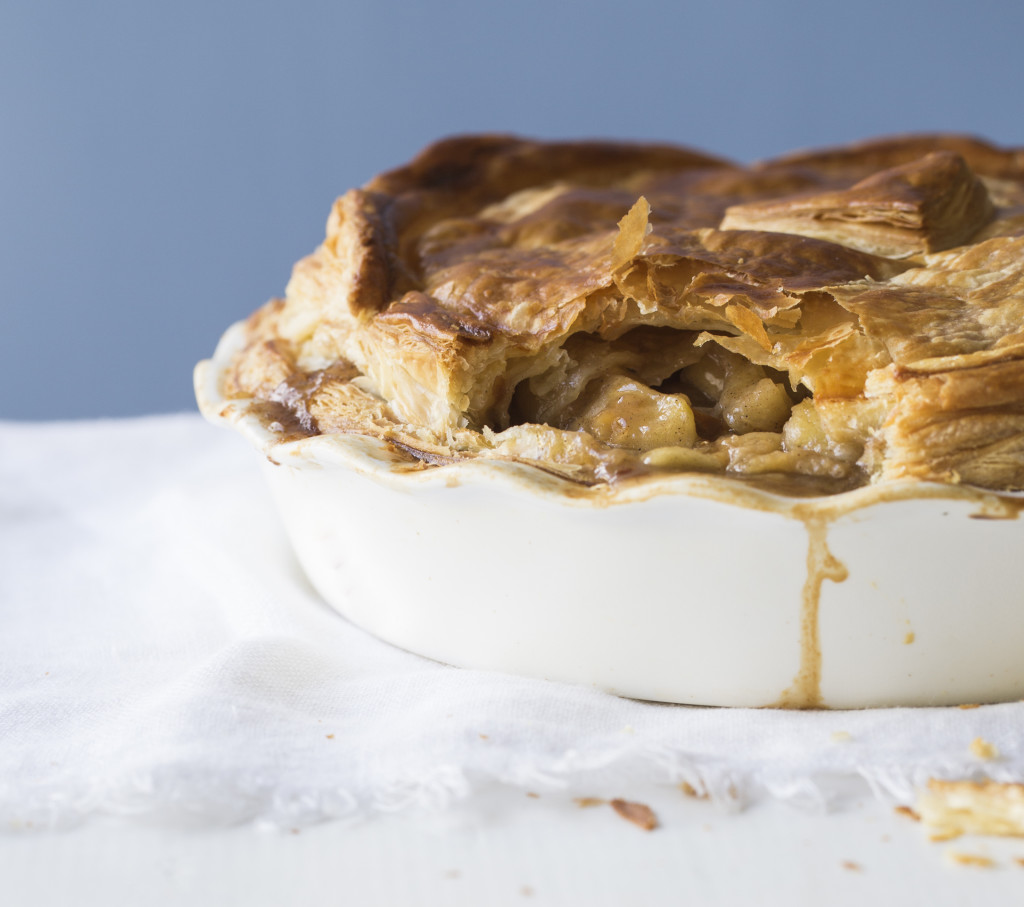 (Image courtesy of Woman's Day NZ)
Apple pie with feijoa & maple
I developed this lovely recipe for Woman's Day magazine, and they were kind enough to let me share it on my website. With a crispy flaky puff pastry lid, it has a beautiful thick filling, lightly spiced and sweetened only with pure maple syrup. Try to avoid the artificially flavoured stuff if you can – it's nowhere near as tasty. If you like, you can use 3/4 cup brown sugar instead.
Serves 6
Prep time – 10 minutes
Cooking time – 40 minutes
Ingredients
1.5kg feijoas
4 Granny Smith apples
75g butter
1 ½ tsp cinnamon
1 tsp ground ginger
1 tsp ground nutmeg
¼ tsp ground cloves
½ cup pure maple syrup
¼ cup cornflour
2 x 400g blocks puff pastry
1 egg beaten with 1 tbsp milk
Good quality ice cream, to serve
Whipped or liquid cream, to serve
Method
Preheat the oven to 180c fan bake.
Halve and scoop the flesh out of the feijoas and add them to a bowl. Peel core, and chop the apples and add them to the feijoas.
Place the butter, cinnamon, ginger, nutmeg and cloves in a large saucepan over a medium heat. Cook for a few minutes to warm the spices up. Add the fruit, maple syrup and cornflour and stir gently with a wooden spoon until everything is combined. Simmer for 5 minutes or until slightly thickened. Leave mixture to cool to warm, or room temperature if possible.
Roll out each pastry block to about 3mm thick to fit your pie dish. Line the dish with one piece of pastry so it goes over the edges. Add the filling, brush the outer pastry edge with some egg mixture and cover with the other piece of pastry as the lid. Press the pastry in snugly around the sides of the dish, then press the two layers together firmly to seal. Trim excess.
Bake in the lower half of the oven for 45-55 minutes, or until the pastry is dark golden brown. Serve with ice cream and cream.